A few weeks after I was provided with a sample of the AfterShokz Aeropex, a courier delivered me a new AfterShokz box a few days ago. Oh gosh… this one I have been looking forward to since CES 2019 in January. CES 2019 in January was the first time AfterShokz presented a prototype of their waterproof bone conduction headphones to the world: the AfterShokz Xtrainerz. The first real waterproof bone conduction headphones. If they manage to meet up to their promises and our expectations, this could be a real gamechanger in the world of waterproof headphones and of headphones as a whole. A true milestone in AfterShokz history too. But sceptic as I am, no big words until the AfterShokz Xtrainerz review is completed. Swim goggles on… here we go!
Exclusive Black Friday 2019 Promotion on www.bone-conduction.com on the 26th of November. 10%,20% and 30% promo code reductions. Check the bone-conduction promo links here.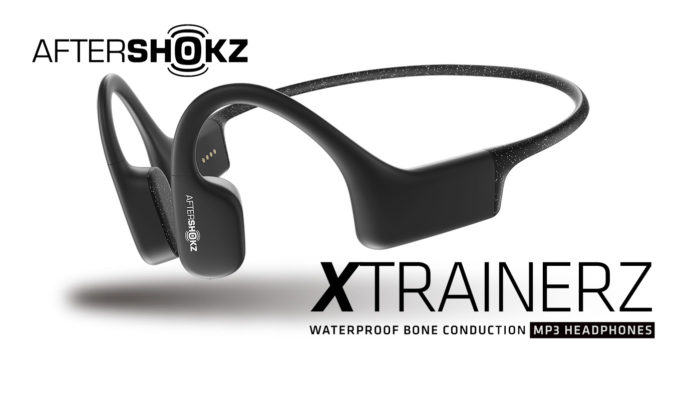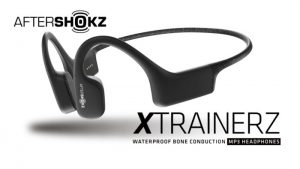 Waterproof headphones
Splash… do you have water running through your veins too? Being a regular swimmer, surfer or other water sport fanatic music is a real must. Imagine swimming on the rhythm of the sea! Nothing so nice than adding some tunes to your exercise routine. It makes sporting life so much easier and so much more comfortable. Finding suitable headphones for running or cycling is still a do-able task but finding the perfect waterproof headphones though is a real pain in the ass. And I am talking out of experience.
As blog writer and bone conduction fanatic I have tested various so-called waterproof bone conduction headphones the past years. None of them managed to meet my expectations though. The most common issues I bumped into were: corrosion because of chlorine and/or salt, not being waterproof (IP68) at all, instable and bad wearing comfort and low sound quality. I have also tested a few in-ear plugs but to clearly hear the sound the plugs had to be pushed deep in my ear and this often caused ear pain.
During CES 2019 I talked to one of the AfterShokz employees and he told me they would do all in their power to tackle all of these issues. So let's do the AfterShokz Xtrainerz Review and check if these headphones can be the ones you have also been looking for!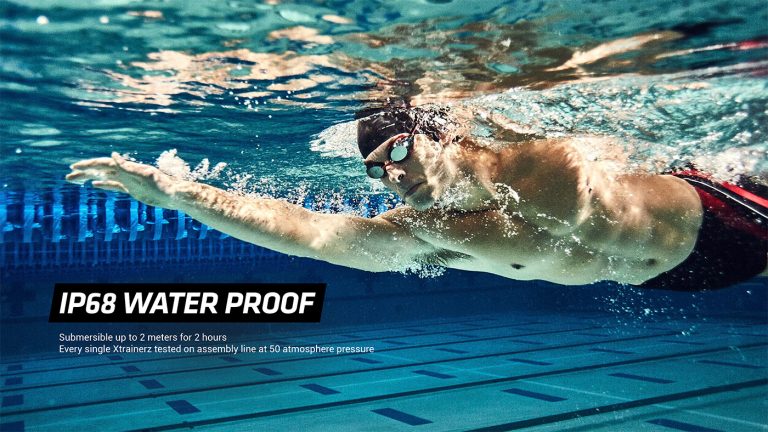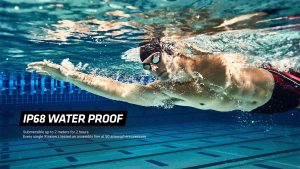 Are the AfterShokz Xtrainerz really waterproof?
Reading the AfterShokz Xtrainerz leaflet, the headphones get an IP68 rating. For the ones who are not familiar with these mysterious numbers let me clarify them. The first number defines the scale of object intrusion whereby 6 is the highest and most secure number. The second number, in this case an 8, defines the water resistance whereby 8 is again the highest possible number. So, the Xtrainerz should be fully waterproof headphones. That's also what I read in the leaflet. Theoratically, the AfterShokz Xtrainerz should be able to be submersed for 2 hours up to 2 metres. Sounds nice, but do they do also meet up to their promises?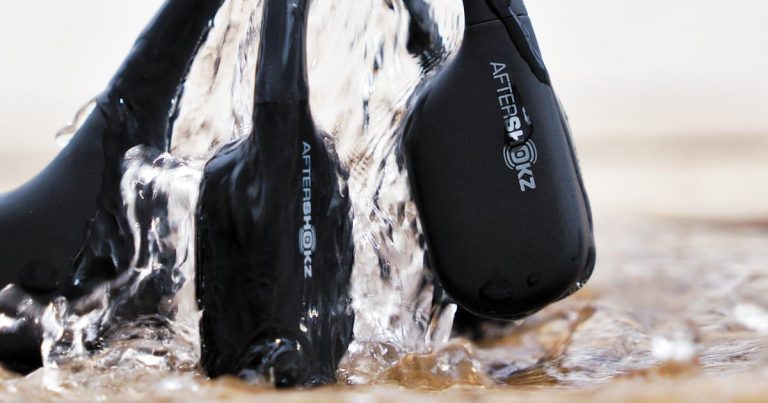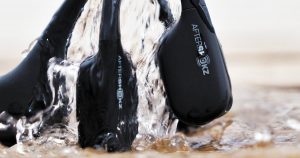 Because only the most extensive and most extreme review us good enough for all of you, I involved two of my best friends. The first one is a competition swimmer, while the second one is a kite surfing lover. They took the Xtrainerz to the real test in two separate conditions: during a 2 hours swimming training in a local swimming pool and during a 2 hour kite surfing session in the salt water North Sea. Both of them were amazed by the sound quality! At all times, the sound had been crystal clear and at no moment there had been any disruption. I know, it's only a first test. And I am also pretty curious what will be the result and the state of sound after 3 months and tens of swimming parties. So, I do promise you I will write a second review in a few months' time for the long-term results. But I can confirm the short-term test is a successful one. So, are the AfterShokz Xtrainerz worth the name waterproof headphones? To my opinion, they are (at the moment).
Wearing comfort
One of the big issues with waterproof headphones used for swimming has always been the wearing comfort and stability. Previous models often had to be attached to a special headstrap and compatibility with swimming goggles or a swim cap was a real disaster. Not even talking about the force of the water knocking off the headphones while swimming. The AfterShokz dry land bone conduction headphones have always excelled in wearing comfort. But can they meet the same wearing comfort quality with the Xtrainerz? Yes, they can! I am not a competitive swimmer but I did wear the headphones when playing with my daughter and when swimming 100 metres. The headphones are really comfortable, and they didn't move an inch / centimetre. Both of my friends, the competition swimmer and the kite surfer, confirmed the superb wearing comfort of the AfterShokz Xtrainerz. Next to the durability this was my biggest concern, but I must say the AfterShokz engineers did a pretty good job. The AfterShokz Xtrainerz reach the same level of wearing comfort than their land brothers and sisters.
Because the main focus are swimmers and other water sport users, The Xtrainerz has an internal storage of 4 GB. So, no Bluetooth connection and no streaming like the other AfterShokz headphones. A logic choice since Bluetooth only has a restricted range. Since I am a fanatic cyclist and my wife is a fanatic runner (see other articles), we did use the Xtrainerz for both activities too and it works perfect. I still prefer my Aeropex because you do have to bring over or upload songs to the headphones but nevertheless the quality of sound etc can be compared to the Aeropex features.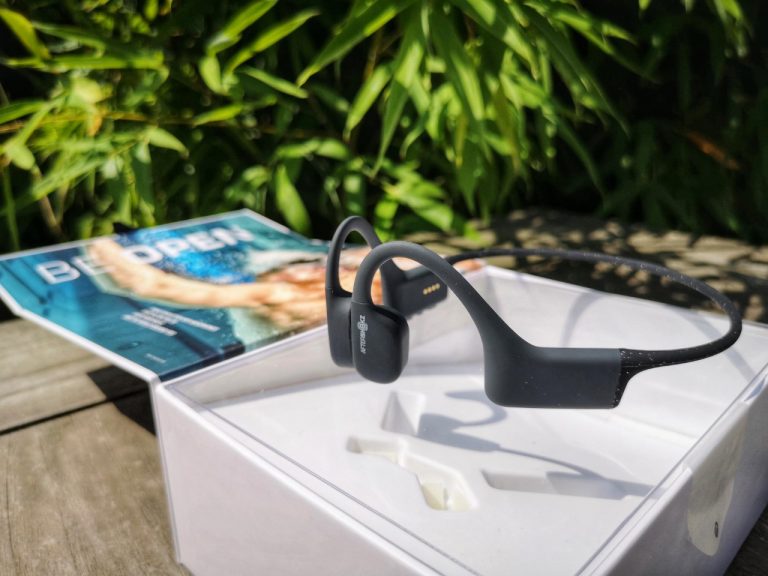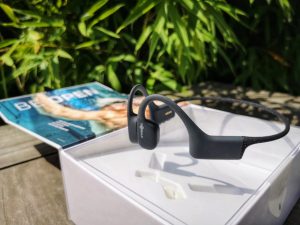 Battery life
Next chapter in my AfterShokz Xtrainerz review is the battery life. The battery of the AfterShokz Xtrainerz is similar to the battery of the Aeropex. And yes, I know I have done the 8-hour test with the Aeropex a few weeks ago (a successful test by the way). You can read my test results here. Nevertheless, new headphones mean a new test. Words are only words and I am more of a fact guy. So, Xtrainerz on, songs uploaded and music maestro. 8 hours and 15 minutes later the sound dropped down on the beats of Armin van Buuren. Test succeeded!
The battery of the Xtrainerz is smaller compared to the Air but it consumes less energy. Besides a new chip has been installed which also reduces the Bluetooth energy consumption. Two enhancements which result in an 8-hour battery life.
The Xtrainerz is also fully recharged in about 1,5 hours. With 15 minutes of quick charge though you can already have a long swimming session.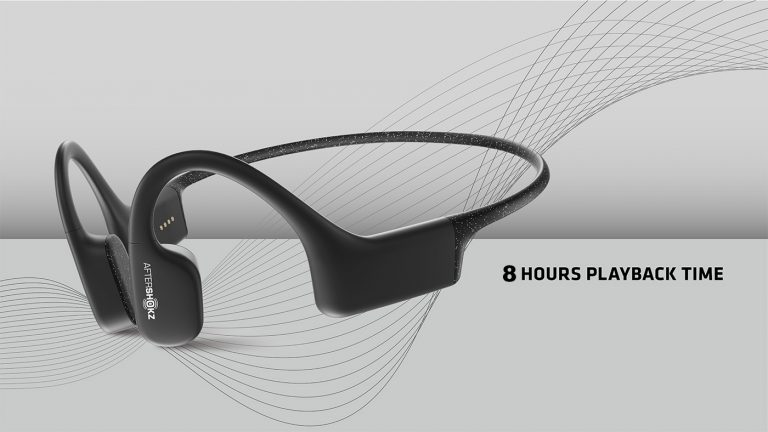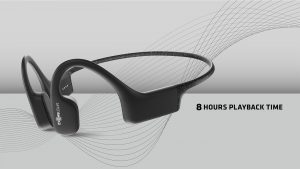 AfterShokz Xtrainerz Charging
The AfterShokz Xtrainerz has a new way of charging compared to the Trekz Air, Trekz Titanium and Aeropex. Because of waterproof reasons the Xtrainerz is charged via a so-called USB charging cradle or small charging box. At first sight it looks a bit complicated but the headphones fit well in the box and it is straightforward. You just put the headphones in the cradle. You make sure the Pogo Pins of the Xtrainerz are in contact with the terminals of the cradle and then you close the cradle with a simple click. The Xtrainerz has a charging led light which is red when the headphones are not yet fully charged and which turns blue when fully charged. The led light works perfect but in daylight conditions it's hard to see when it's red or blue.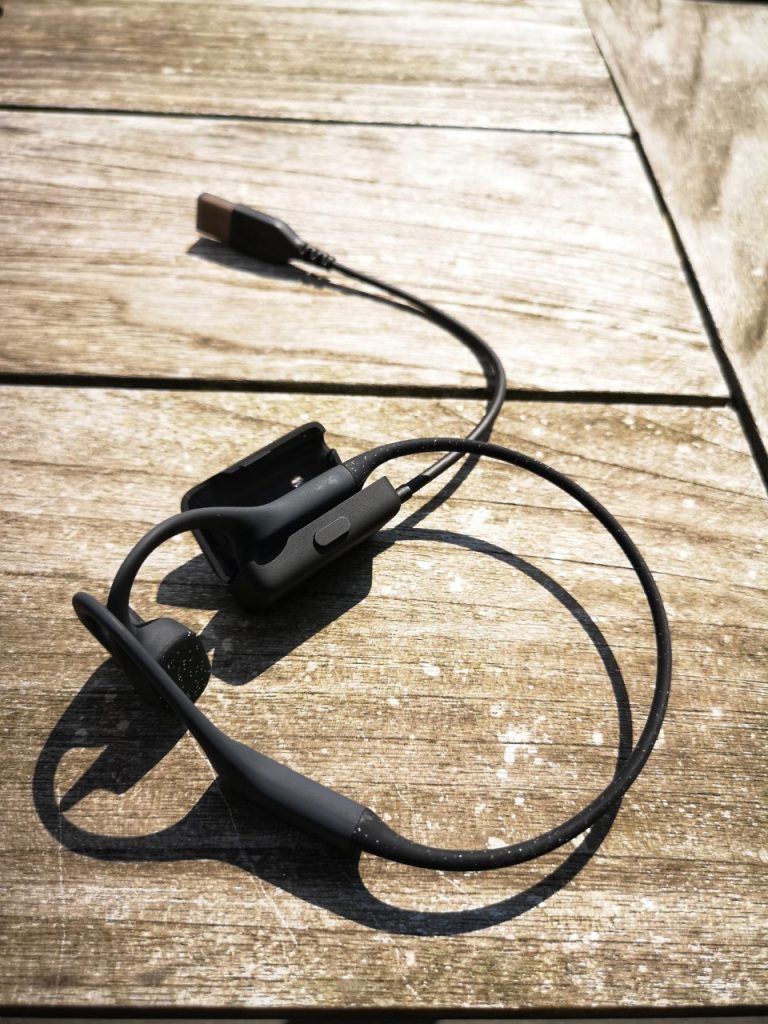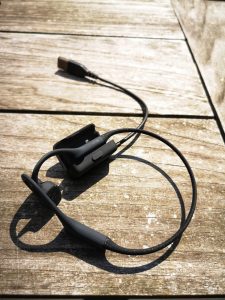 AfterShokz Controls
The AfterShokz Xtrainerz has also received some additional buttons to control the device. In total the Xtrainerz has 4 control buttons. The one at the back of the control panel is the one to be used to switch between general mode and swimming mode. It alters the EQ settings. General mode should be switched on when using the headphones for cycling, hiking, running,… While the swimming mode should logically be used when performing your water sport activity. The button in the middle on the main control panel is the multi-function – power button. It should be used to turn on/off the device and to play or pause your music. The two other buttons are mainly to control the volume and to check your battery status. By using a combination of the buttons you can also switch between the music folders you have created or between languages. I would suggest to read the manual well because it might be a bit complicated in the beginning. When you get used to it though it becomes pretty straightforward. After using it for a few days I was in 'full control'.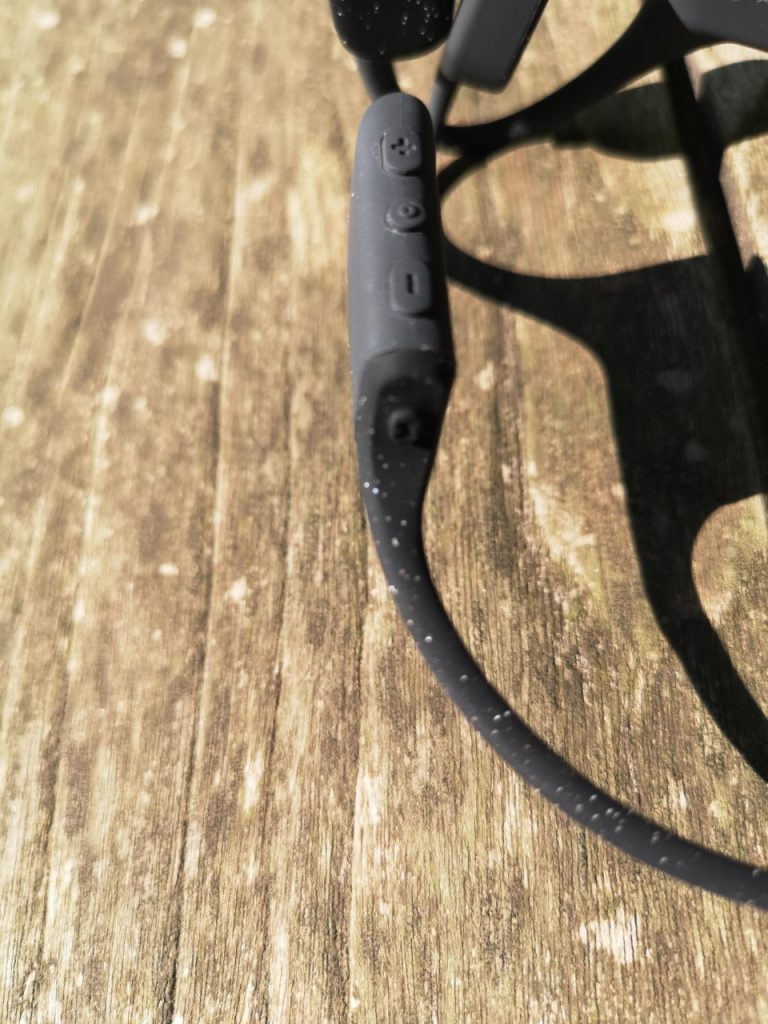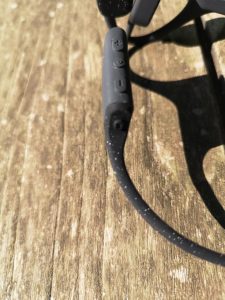 Sound quality
A big issue with past and probably also future waterproof headphones is the sound quality. A difficult matter to tackle also because the sound of water should not interrupt with the sound of your songs. Somehow bone conduction is the ideal technology to tackle this issue. Unfortunately, no brand really succeeded so far to use this technology at its best. I have tested the Xtrainerz for my AfterShokz Xtrainerz review myself in a swimming pool. But I have also asked my two formerly mentioned friends to provide me with a sound quality update. The three of us came up with a very good report. The bass and volume underwater are remarkably dynamic. It feels like you are running or walking with an in-ear or over-ear headphone. Thanks to the dedicated equalization the Xtrainerz met up to our expectations. Well done AfterShokz! This is a big pro!
AfterShokz Xtrainerz Specifications
Excellent wearing comfort, even in rough conditions (at sea). Titanium frame adds to stability and flexibility.
Battery life: 8 hours
Quick charge! 15 minutes of quick charge allows you to have a long swim session. Full charge takes 1,5 hours
Dust resistant
Waterproof IP68 Certified. Up to 6 feet or 1.8 metres up to 2 hours. As well in fresh as in salt water.
4 GB of internal storage to hold about 1200. Similar to MP3-player and ideal for songs, podcasts, audiobooks,…
Warranty: 2 years
Where to buy and the price
Exclusive Black Friday 2019 Promotion on www.bone-conduction.com on the 26th of November. 10%,20% and 30% promo code reductions. Check the bone-conduction promo links here.
The AfterShokz Xtrainerz is currently available via the below link. Enjoy free shipping via www.bone-conduction.com
Pros and Cons
Pros
Waterproof IP68 Certified. Up to 6 feet or 1.8 metres underwater and up to 2 hours.
2-year warranty
Equalization mode to switch between general mode and swimming mode. Exceptional sound quality underwater with no water interference.
Bone conduction technology. Open ear headphones. No risk on swimmer ear or in-ear headphone infections or irritations.
Extremely stable on the head, even in rough conditions.
Cons
The charging light is rather weak in daylight conditions
The Xtrainerz has two additional buttons compared to the brand's previous bone conduction headphones. It might take some time to get used to all functionalities which can be executed by these buttons but when getting used to them they do offer a wide range of possibilities.
AfterShokz Xtrainerz Conclusion
So far, AfterShokz once again managed to happily surprise and amaze me. The second time this month. We do have to provide the long-term review but the first tests are very promising. I have a feeling this could really be the real waterproof headphones gamechanger. I hope this AfterShokz Xtrainerz review helps you to make the right choice. If you have questions or concerns don't hesitate to contact me and I will try to answer them asap.
Frequently Asked Questions
Can you make calls with the Xtrainerz?
No, you can't. Because of obvious reasons AfterShokz opted for a non-bluetooth device with an internal memory this time. Non-bluetooth means it cannot be connected to your smartphone and you won't be able to answer or make calls.
Can you use the Xtrainerz in salt water?
Yes, you can. The Xtrainerz has been designed to be used in salt and in fresh water.
What's the AfterShokz Warranty?
AfterShokz offers a 2-year warranty on all its headphones.
What's the size of the internal memory of the Xtrainerz?
The Xtrainerz has an internal memory of 4 GB which allows you to upload 1000 – 1200 songs.
Is the Xtrainerz really waterproof?
Yes, it is. It is IP68 certified. The highest certification possible. It can be used up to 6 feet or 1.8 metres underwater and up to 2 hours.
What's the price of the AfterShokz Xtrainerz?
Check for the latest and cheapest price via the below link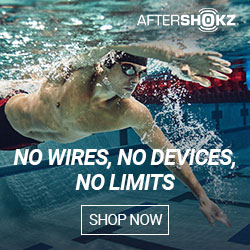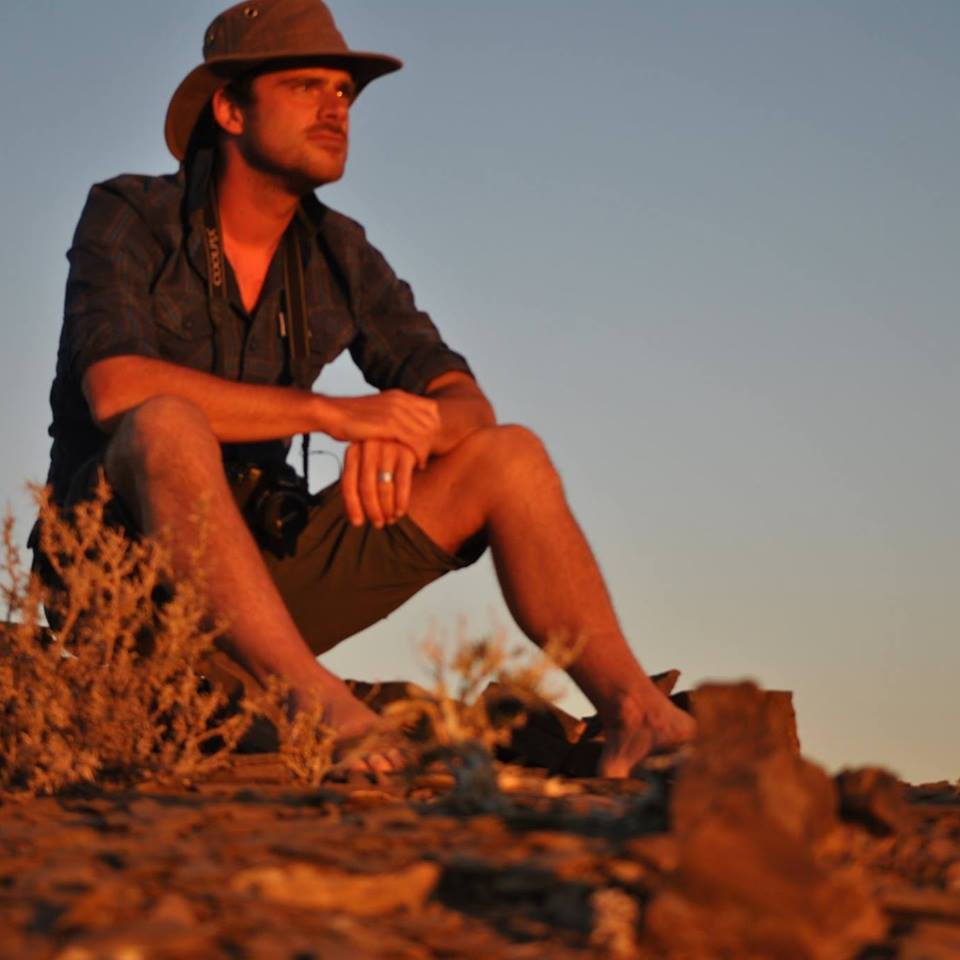 Wim Styleman is a content writer, translator, reviewer and bone conduction fanatic. Interested in the wonderful world of bone conduction since 2016. Driven by a desire to get everyone submerged into this wonderful technology, but critical and honest when he has to be as a reviewer. Only the best is good enough. He has traveled around the globe and visited various CES events. When he isn't busy testing bone conduction devices or writing freelance translations, he is at his bike somewhere on the Belgian roads or on his touring skis somewhere in the Austrian or French Alps.