"I am so excited and I just can't hide it", a song that spontaneously popped up in my mind when receiving a big black box showcasing silver letters… AfterShokz! This one I had been looking forward too for several months and finally Fedex dropped it at my door. This tiny treasure contained the one and only AfterShokz Aeropex, the sensational (I hope so) successor of the AfterShokz Trekz Air. According to AfterShokz the Aeropex is the result of a long journey of enhancements, innovations, user review analyses and testing. Better sound quality, less sound leakage, lower weight, better wearing comfort… are a few of the enhancement areas AfterShokz is proudly presenting to all of us. So as usual… time to test these bone conduction headphones! Time to test if AfterShokz can make up to their vast array of promises. Our one and only complete AfterShokz Aeropex Review!
Exclusive Black Friday 2019 Promotion on www.bone-conduction.com on the 26th of November. 10%,20% and 30% promo code reductions. Check the bone-conduction promo links here.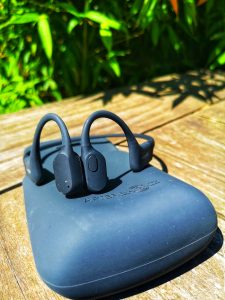 AfterShokz' road to the Aeropex
The AfterShokz Aeropex isn't the first milestone in AfterShokz history. The well-known brand has been producing bone conduction headphones and bone conduction sunglasses for about 7 years now. The company itself was founded in 2011 in Syracuse (New York). Their first bone conduction headphones were the Sportz M1. This wired bone conduction headset immediately hit the bull's eye by winning the 2012 Wall Street Annual Tech Innovation Award. In 2013 the Bluez, the first wireless bone conduction headphone, and the Sportz M2 proved to be two headphones worthy of the AfterShokz name by winning the 2013 CES Tech Innovation Award and the Edison Award.
Although winning several awards, 2015 can be considered as the real breakthrough year!  The Bluez 2 came to the market and earned the US Industrial Design Excellence Award. The Bluez 2 was equipped with bone conduction technology which is still forming the basis of today's technology. The next major step in AfterShokz' road to the Aeropex was the introduction of the AfterShokz Trekz Titanium in 2016; The Trekz Titanium became the proud and well-deserved winner of the Red Dot Award and Good Design Award. Besides enhancing the sound, the plastic frame of the Bluez 2 was replaced by a more comfortable rubber frame and titanium was added to increase the headphones' flexibility and durability. 2 years later the AfterShokz Trekz Air became the successor of the Trekz Titanium. This lightweight headset gave AfterShokz the international fame it deserved. Easy to use, extreme wearing comfort, good sound quality and ultimate durability have made these headphones the most popular bone conduction headphones on the market. Maybe up until now… 2019 should become a new milestone in the AfterShokz's history. The product to make or break this objective: the AfterShokz Aeropex.
Get your Aeropex via the below link. Exclusive www.bone-conduction.com offer + free shipping on the bone-conduction.com orders. 
Exclusive Black Friday 2019 Promotion on www.bone-conduction.com on the 26th of November. 10%,20% and 30% promo code reductions. Check the bone-conduction promo links here.
UK visitors can buy their Aeropex via the below link
Buy the AfterShokz Aeropex Here (UK)
What is bone conduction?
For the ones who aren't familiar yet with the technology called bone conduction, we are happy to define it once more. Bone conduction was primarily deployed in the military and medical fields for communications purposes. At that time, the technology was largely unknown to the wider market. It was developed so soldiers could receive instructions while still hearing their surroundings. Bone conduction is a sound technology whereby sound is not transmitted via your outer ear but via your skull and in this case your cheek bones. Tiny vibrations are sent by a transducer through your bones to your middle ear. The middle ear sends them to your inner ear and the inner ear to your brains where the vibrations are recognized as sound. It might seem a very innovative technology, but the same principle was even used by deaf composer and musician Beethoven some 300 years ago (read the history of bone conduction). Bone conduction has various benefits of which the security aspect is the most important one (read the benefits of bone conduction).
The fact that bone conduction headphones are open-ear makes them ideal for outdoor sports where athletes can hear the traffic around them. However, many failed products (some of which we have tested already) by various companies have ruined some of the bone conduction reputation. Unwavered by skepticism and doubts AfterShokz is one of the first companies which developed champion bone conduction sports headphones. It's mainly thanks to their investigation and their focus groups of runners, swimmers, cyclists and outdoor lovers, bone conduction headphones have become a category of their own in retail channels. AfterShokz bone conduction headphones sales make up 37% of total electronics sales in running stores in the US. Just to give you an idea of their influence and success. Besides they are 1st and 7th wireless sports headphones for growth and sales in the US. In 2018 alone, 1.5 million units were sold.
Unpacking the black box
My magic black box… standing there like a chest full of gold you have discovered during your treasure hunt. The black box is a reviewer's box (so don't expect the same) but then again it does prove AfterShokz' eye for detail. Opening the black box, it contains a reviewer's guide picturing all details and innovative features and functionalities. Nonetheless, AfterShokz emphasizes the fact they expect an honest and open review. Nowhere suggestions are made, or promises are offered for a good review. There is even a small black envelope added with a hand-written letter in it. The letter welcomes you as a reviewer and once again requests an honest review and all remarks to be shared with AfterShokz and the AfterShokz community (social media).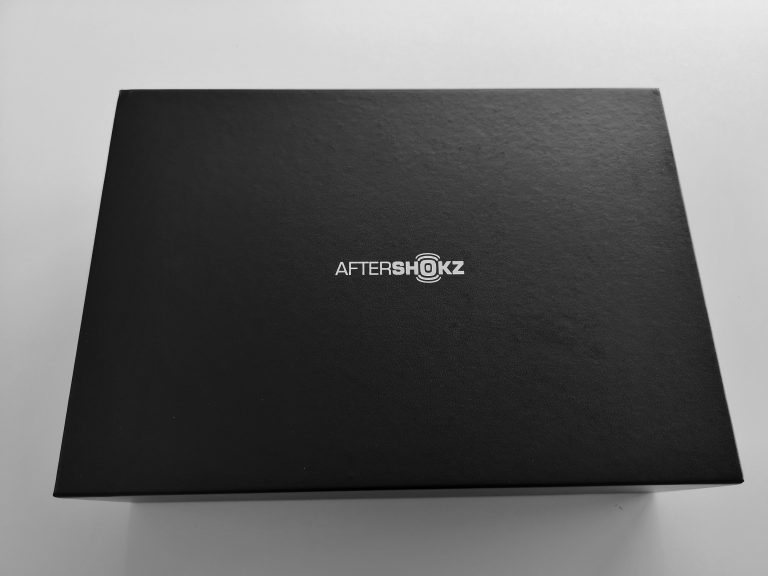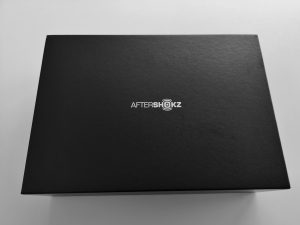 A box within the box is where the real magic starts. This is the true AfterShokz Aeropex packaging. Firm and solid like the AfterShokz Trekz Air one. It's a white box that can be unfolded (different to the Trekz Air box) and which displays some wonderful running scenery. Hidden under the last layer is the AfterShokz Aeropex. The headphones are firmly attached to the box and look like a hidden gem against the white background. Removing the headphones, the box contains a hidden storage area in which you can find all accessories and the manual. (See accessory part)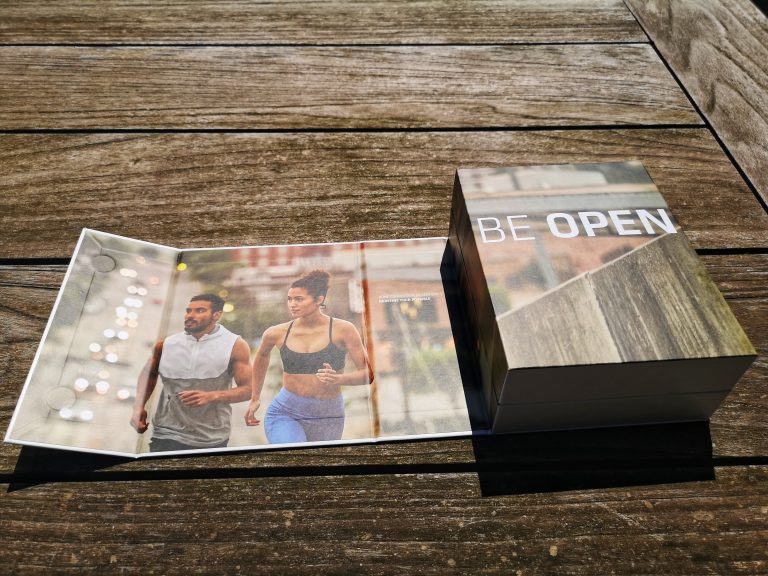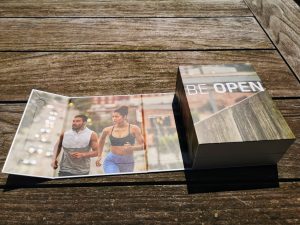 So a bright and brilliant box… but that's not what this AfterShokz Aeropex review is about of course… although it's a promising start.
Accessories
The AfterShokz Aeropex is delivered with a standard set of accessories. For some reason I got two charging cables (no idea if this is standard business – I will check with AfterShokz).
Two charging cables
A manual / user guide
A warranty card offering two years of warranty
A small card providing info for a quick start-up + for charging
Two ear plugs in a little plastic box (for very noisy environment like construction sites and airports)
A rubber storage bag with a magnetic closure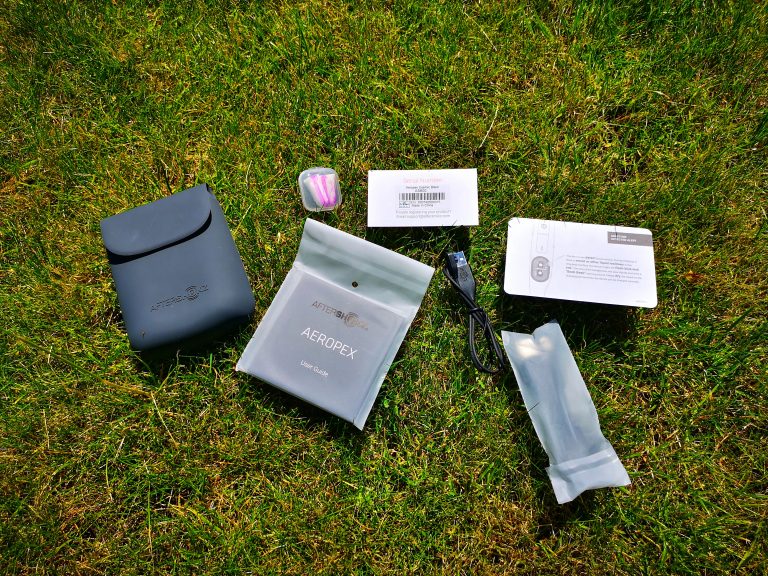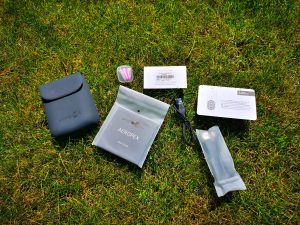 The look and feel of the AfterShokz Aeropex
Taking the AfterShokz Aeropex out of the box, I immediately noticed the transducers which were rounded off. The Trekz Air has cube-like transducers. The new design has also no LeakSlayer holes anymore. It makes the Aeropex look a bit simpler but at the same time cooler, more streamlined and trendier.  The frame itself is similar to the Air one, except for the charging area.
Putting the AfterShokz Aeropex on the palm of my hand I was amazed by the weight. Aeropex is 30% smaller and 15% lighter… weighing only 26 grams. Putting them on my head, I experienced an incredible feeling of comfort. Stable and with a high wearing comfort. Read our 'put to the real test' chapter for our first user experiences whilst cycling and running. I will test them more extensively and for longer periods (up to 8 hours in a row) the coming weeks.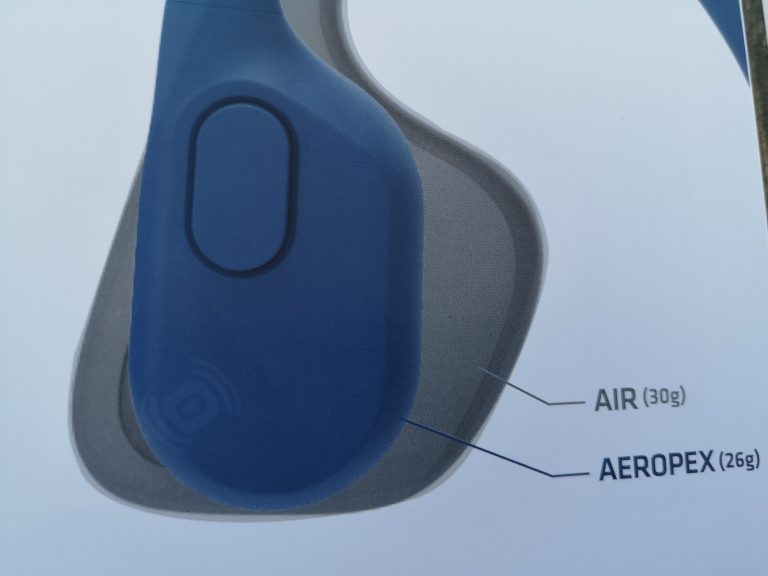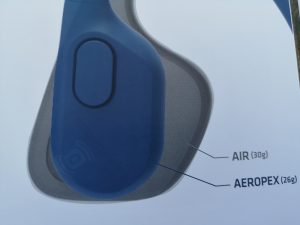 Battery Life
I haven't tested them during cycling for 8 hours in a row, but I did let them play music for as long as possible to test the battery life. Albeit the battery is smaller in size than before, the Aeropex transducer is more powerful and yet consuming less power. It also uses a new chip to reduce Bluetooth energy consumption. AfterShokz therefore promised an 8-hour playback time. My AfterShokz Aeropex was able to continuously play music 8 hours and 21 minutes! Test succeeded and promise fulfilled!
My Aeropex was fully charged again after 1 hour and 56 minutes (AfterShokz defines a 2 hour full charge in their manual).
Sound quality
There we go… Lea Rue with "I'll be watching you" gets the honour to be my first Aeropex song. Wow, the sound is clear as crystal and where are the vibrations? The fact the AfterShokz Aeropex has a higher utilisation of the magnetic field, does have an impressive effect on the sound quality. My brother in law, who is a musician, gave it a test too last night. He felt vocal sound quality to be on par or even better than traditional earbuds. I will be modest and say on par… but then again, they do sound wonderful these headphones. The mid to high frequency range is now very smooth.
I recall two criticisms some people expressed using previous models: lack of bass and tiny vibrations. Since bass is causing vibrations, AfterShokz limited the bass to reduce the vibrations to a comfortable level. Since I am used wearing different types of bone conduction headphones it was the first thing I noticed when wearing the AfterShokz Aeropex: it has more bass but less vibration?!? Since my feeling might sometimes be wrong (who am I), my wife tried them on. She immediately confirmed my feeling (lucky me we are at least on the same feeling level ?. I deepdived into the Aeropex innovations and found a remarkable transducer enhancement. AfterShokz has changed the position of the transducers (the parts that transmits the actual vibrations/sound). They are tilted against the face at a 30 degrees angle while before they were almost touching your skin. This tiny change makes a big difference. There is more room to vibrate so more room to produce bass whilst still causing a reduced sensation of vibration. Well done!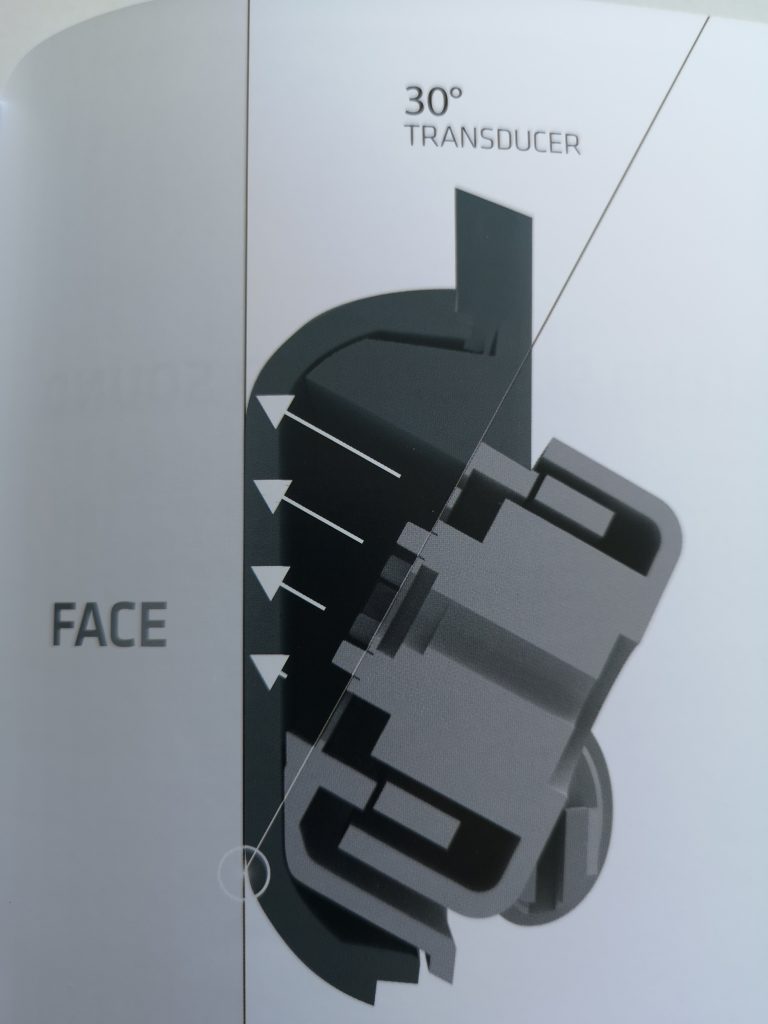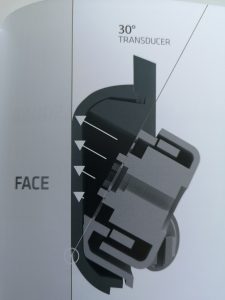 So far, I haven't had in ear buds producing a similar sound quality. Nevertheless, I have not tested them all. So sound quality wise I can only say they hit the bull's eye.
P.s.: Before I forget to mention… even at the highest volume there is barely sound leakage. It seems AfterShokz was indeed able to reduce sound leakage by 50%!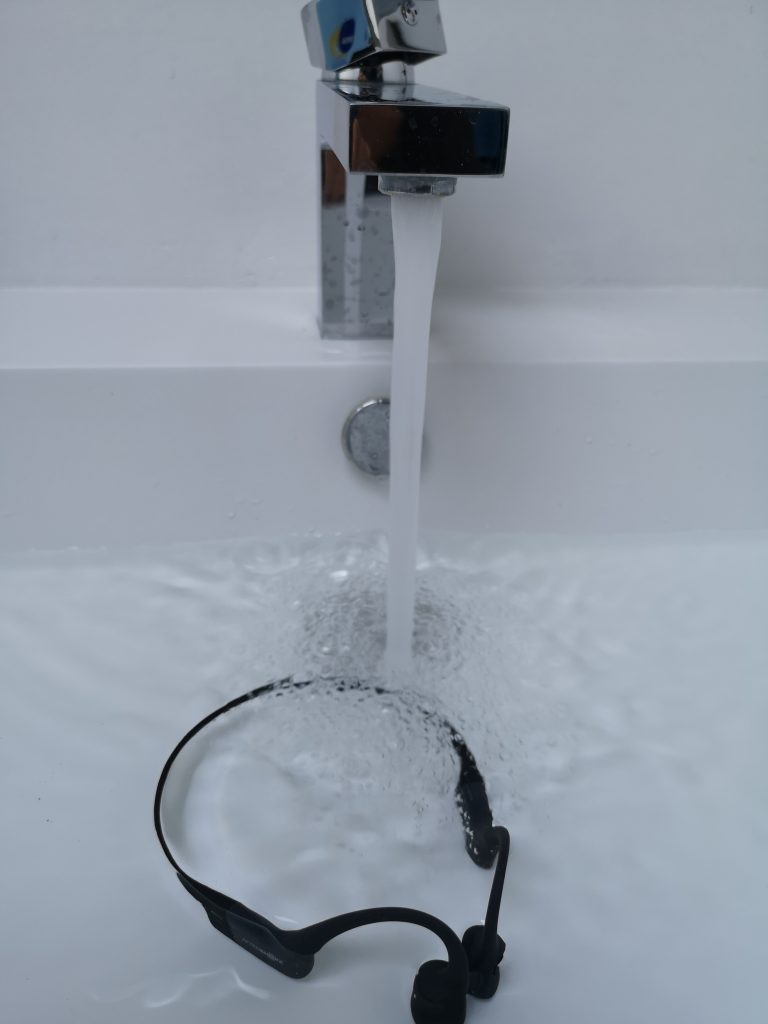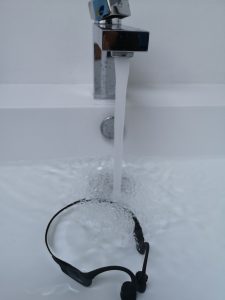 Is it really waterproof?
This part of the review I am always a bit hesitant about. It's like when I first submerged my Huawei P20 pro… at first sight these devices are not made for swimming but then again; they are categorized as being waterproof. So you gotta do what you gotta do. I filled our sink and the AfterShokz Aeropex took his first dive. 45 minutes later I took it out again and turned on the music. Perfect sound, no issues. Charging also went fine.
Put to the real test
At the moment my AfterShokz Aeropex is 'almost' brand new because… we have already been able to put it to two reals tests in practice. I have used it during one of my cycling trainings (3 hours in a row) ad my wife has used it for running 15 kilometres (9.3 miles).
Both of us have tested about 10 bone conduction headphones in the past and both of us are extremely excited about the AfterShokz Aeropex. (brands & models we have tested so far are the AfterShokz Trekz Titanium, the AfterShokz Trekz Air, the AfterShokz Bluez 2, the AfterShokz Sportz Titanium, the Vidonn F1, the conduit motion, the VocalSkull Beyond 5, the Bonetalker Adder, the LF-19 and the Panasonic RPHGS-10). No doubt, this is currently the best bone conduction headset on the market.
These headphones go hand in glove with your bike helmet. At no point they felt annoying or bumped into the back of the helmet. I am also always wearing cycling glasses with straight legs and they didn't interfere with the wearing comfort. Once again AfterShokz managed to develop an extremely stable device. It sits on the head and stays on the head without moving an inch. Even when trail running (my wife's hobby) or cycling cobbled streets (me).
AfterShokz Aeropex specifications
Part Number: AS800s
Speaker Type: Bone conduction transducer
Frequency response: 20 Hz~20KHz
Sensitivity: 105 +/- 3dB
Microphone: -38 dB +/- 3dB
Bluetooth Version: Bluetooth v5.0
Compatible profiles: A2DP, AVRCP, HSP, HFP
Speaker Impedence: 8.50hm +/-20%
Frequency band: 2402MHz~2480MHz
Wireless Range: 33  ft (10 m)
Battery: Li-Polymer Battery
Continuous Play: Up to 8 hours
Standby time: Up to 10 days
Charge time: 2 hours
Weight: 26 g
Warranty: 2 years
Sweat resistance: IP67
Battery capacity: 145 mAh
Where to buy and the AfterShokz Aeropex price
Get your Aeropex via the below link. Exclusive www.bone-conduction.com offer + free shipping on the bone-conduction.com orders. 
Exclusive Black Friday 2019 Promotion on www.bone-conduction.com on the 26th of November. 10%,20% and 30% promo code reductions. Check the bone-conduction promo links here.
UK visitors can buy their Aeropex via the below link
Buy the AfterShokz Aeropex Here (UK)
It will come in 4 colors: Lunar Grey, Cosmic Black, Blue Eclipse and Solar Red.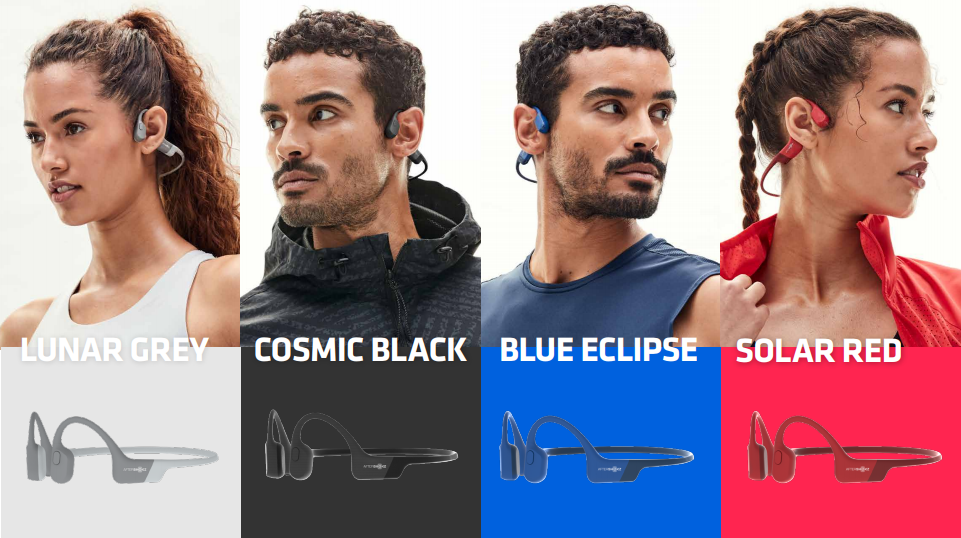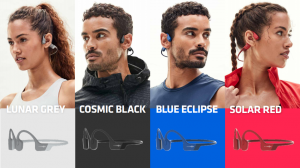 Pros vs Cons
No AfterShokz Aeropex review without a quick pros vs cons overview:
Pros:
Super light!
Small but durable and flexible
Very clear and dynamic sound
Open ear technology (bone conduction)
Wireless
Bluetooth v5.0
Almost no sound leakage
8 hours of continuous playback time
IP67 Waterproof
Cons:
We expect the headphones to be in the high range price category: the AfterShokz is already for sale for about £149.95 (so about 166 euros / $169). A high price but a wonderful device which is worth the money!
My wife likes the storage bag of the Air more.
AfterShokz Aeropex review conclusion
It's only a first test and a first impression of course and the coming weeks and months will be an AfterShokz Aeropex adventure. We will take you on our journey and adventure by sharing regular updates. This way, we will soon share additional review information concerning the battery life, use in extreme (read rainy) circumstances, a short swim session test and so on. A lot to explore and a lot to discover. So far though we are impressed and happily surprised by these headphones. Are they worth the money? We do believe so since the security aspect, which has always been the first and main bone conduction focus, is now merged with a clear high-quality aspect. Sound and comfort have clearly become additional core areas of focus.
The AfterShokz Aeropex might be tens of Dollars more expensive than some Asian headphones like Vidonn, VocalSkull and the Bonetalker but honestly… they are tens of times better too. Therefore, Vidonn F1, VocalSkull and the BoneTalker Adder are good bone conduction headphones worth their money, but quality wise the AfterShokz Aeropex excels. Up to you if you want good bone conduction headphones and pay less or brilliant headphones and pay more. Feel free to read out other reviews to get the full picture and we hope you have enjoyed our AfterShokz Aeropex Review.
P.s.: AfterShokz is currently the only bone conduction headphones brand offering 2 years of warranty. An important plus we believe.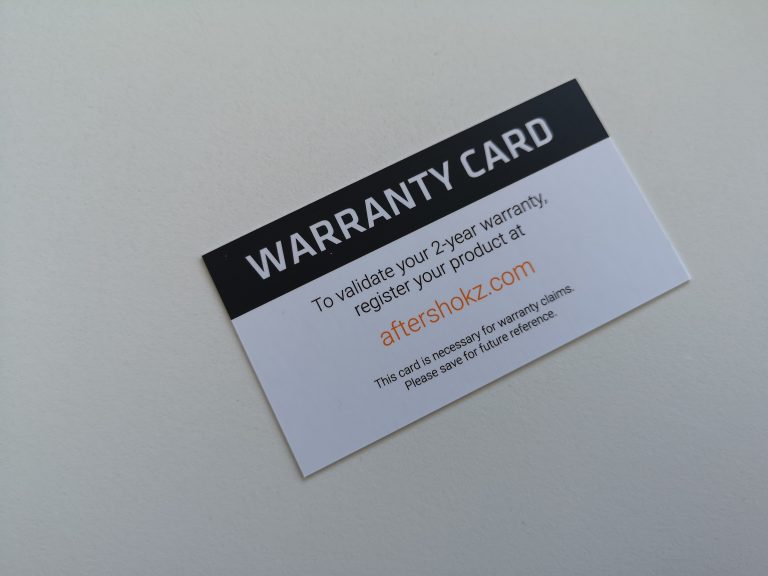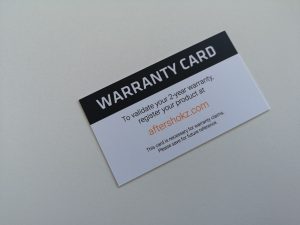 Frequently asked questions
Is the AfterShokz Aeropex waterproof?
The AfterShokz Aeropex are IP67 bone conduction headphones. This means they are waterproof (submersion of max 1 meter depth – max 30 minutes). It is not advisable to use them for swimming though. For fully waterproof headphones (for swimming) we would recommend the AfterShokz Xtrainerz.
What are the differences between the Trekz Air and the Trekz Aeropex?
I have written an extended AfterShokz Aeropex vs AfterShokz Trekz Air article: https://www.bone-conduction.com/en/aftershokz-aeropex-vs-aftershokz-trekz-air
What's the current price of the AfterShokz Aeropex?
The AfterShokz Aeropex is currently for sale at $159.95 or £149.95
Has the Aeropex a lot of sound leakage?
The Aeropex has the lowest sound leakage of all bone conduction headphones. At the highest volume you can still hear some noise but at around 80% of the max volume there is barely no sound leakage anymore.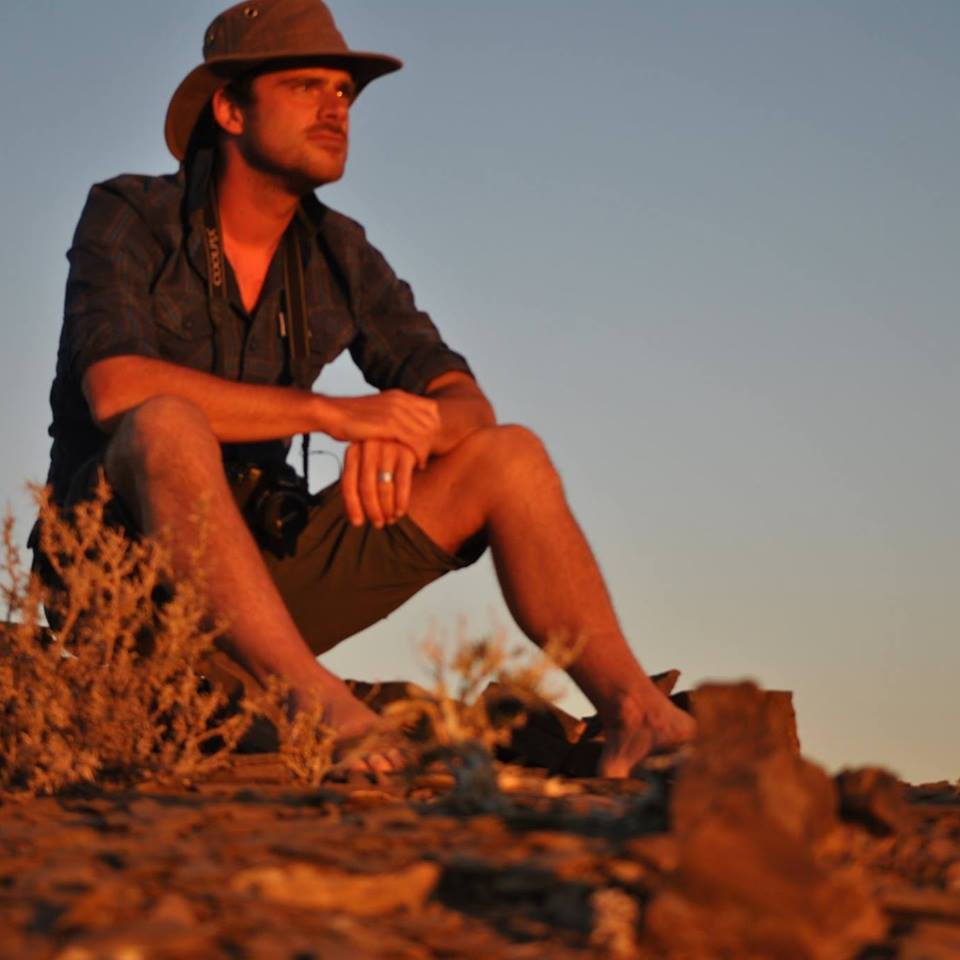 Wim Styleman is a content writer, translator, reviewer and bone conduction fanatic. Interested in the wonderful world of bone conduction since 2016. Driven by a desire to get everyone submerged into this wonderful technology, but critical and honest when he has to be as a reviewer. Only the best is good enough. He has traveled around the globe and visited various CES events. When he isn't busy testing bone conduction devices or writing freelance translations, he is at his bike somewhere on the Belgian roads or on his touring skis somewhere in the Austrian or French Alps.