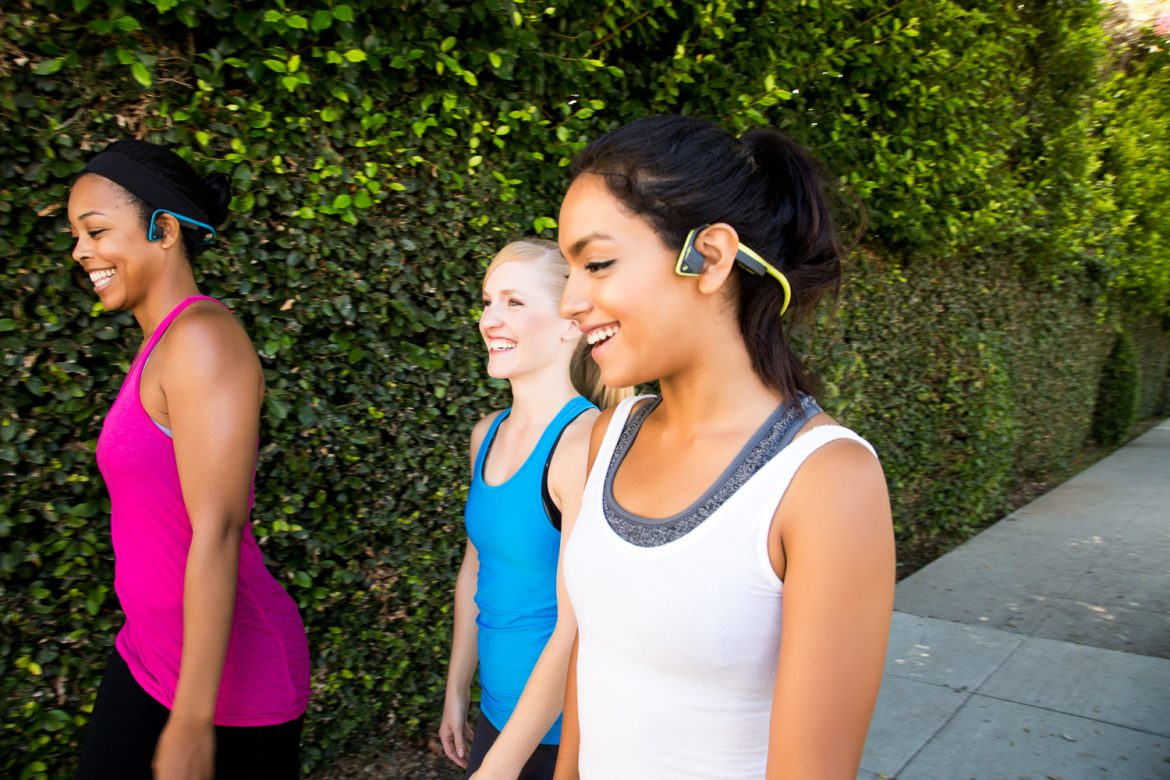 AfterShokz Trekz Air vs AfterShokz Trekz Titanium
Looking for bone conduction headphones? In that case there are currently two bone conduction headphones that are significantly better than their closest competitors: the AfterShokz Trekz Air and the AfterShokz Trekz Titanium. In some of our other blog articles you can read more about the bone conduction technology and about the exact specifications of both headphones. In this article however we are not going to cover the exact details but we will deep-dive into the differences between these two remarkable headphones in order to give you a clear picture of which bone conduction headphones suits your needs and preferences the best. The ultimate AfterShokz Trekz Air vs AfterShokz Trekz Titanium review.
AfterShokz Trekz Air vs AfterShokz Trekz Titanium: Only slight differences
The Trekz Air is the latest and most innovative bone conduction headphones on the market. The company AfterShokz introduced these headphones to the market as the successor of the Trekz Titanium, which is still on sale for about 50 Dollars (70 euros) less. The first difference that caught our eye is the weight of the AfterShokz Trekz Air. In fact, it weighs 6 grams less than the Trekz Titanium (30 grams vs 36 grams). Nothing spectacular at first sight but percentage-wise it is 20% less. When therefore wearing the bone bone conduction headphones, you immediately notice the Trekz Air feels a bit more comfortable and its appearance  is somewhat more stylish. Yet the differences are minimal.
Although the Trekz Titanium was already very flexible, AfterShokz went the extra mile with the Trekz Air. With the Trekz Titanium it takes some time to properly fit it under my helmet when cycling or skiing or to make sure it doesn't continuously interact with the collar of my shirt.  Thanks to some minor changes, the Trekz Air has an increased flexibility and helmets or collars do not form an obstacle at all. This is perhaps the biggest difference when comparing the AfterShokz Trekz Air vs AfterShokz Trek Titanium; enhanced wearing comfort. The enhanced wearing comfort aspect is also proven by the fact the Trekz Titanium has two versions: The Titanium & the Titanium Mini, depending on the size of your head. The Trekz Air, available in only one version, has a shorter and slightly enhanced frame and suits as well persons with big head as with a small head. Not sure which Titanium to choose, we did the test and have a tooling size guide ready to download. 
Are there any other AfterShokz Trekz Air vs AfterShokz Trekz Titanium differences? The use time is exactly the same; 6 hours. The new model does have Bluetooth 4.2 and the wireless range is slightly better. With a standby time of 10 days, the AfterShokz Trekz Titanium already does well, but the AfterShokz Trekz Air doubles this time and can remain in standby mode for about 20 days.
Besides these aspects, we have noticed no other differences when we performing our AfterShokz Trekz Air vs AfterShokz Trekz Titanium review. The sound quality is remarkably well in both cases and the bone conduction technology produces enough volume to clearly hear your music without missing your ambient sounds. So no real difference in this area to my humble opinion.
AfterShokz Trekz Air vs AfterShokz Trekz Titanium: Price
AfterShokz Trekz Air vs AfterShokz Trekz Titanium: Conclusion
Our conclusion is that both bone conduction headphones belong to the top of the bone conduction headphone chain. If you want an ultra light model, then the AfterShokz Trekz Air is a good option. When only considering the sound volume, the AfterShokz Trekz Titanium is the perfect choice. Also with a limited budget the AfterShokz Trekz Titanium will properly meet your requirements. After a few weeks of testing, I still wonder which one delivers the best sound quality, but taking into consideration the overall wearing comfort my personal favourite is the AfterShokz Trekz Air. However, if you already have an AfterShokz Trekz Titanium, you do not need an upgrade immediately, unless you want an even lighter model with more wearing comfort.
Oh Yes, before we forget. The AfterShokz Trekz Titanium is available in 4 different colors while the AfterShokz Trekz Air is currently available in only 1 color.
Short Overview: Titanium vs Air
AfterShokz Trekz Air
AfterShokz Trekz Titanium
- 1.06 oz (30g)
- Standby time: 20 days
- Continuous play: 6 hours
- Charging time: 2 hours
- Bluetooth 4.2
- Enhanced Bass
- Frame: full titanium
- Enhanced wearing comfort: higher on the head so improved comfort when wearing for long periods.
- Enhanced microphones with even enhanced noise cancelling
- PremiumPitch+ technology
- 2 jaar warranty
- 3 colors: slate grey, green, blue
- 1.27 oz (36g)
- Standby time: 10 days
- Continuous play: 6 hours
- Charge time: 1,5 hours
- Bluetooth 4.1
- PremiumPitch+ technology for quality sound
- Microphones which filter away ambient noise
- Frame: Titanium + plastic
- 2 year warranty
- 4 colors: Lime (Ivy green), black/grey, blue and pink

Buy Trekz Air Here

Buy Trekz Titanium Here
Where to buy the AfterShokz Trekz Titanium or AfterShokz Trekz Air
Planning to buy a bone conduction headphone? At the moment we have the best experiences with the official AfterShokz website. For years we have been using their service for different products and have never been disappointed so far. Via the below link you get to the page of the AfterShokz Trekz Air & AfterShokz Trekz Titanium straight away and you will profit from our exclusive free shipping offer. Have fun with these bone conduction headphones!
AfterShokz Bundle Promotions
Limited AfterShokz discount code campaign at www.bone-conduction.com. Use code DEAL via the below link and get 55$ discount on your AfterShokz bone conduction headphones bundles!
Save $55 on the AfterShokz Trekz Air Bundle using code "DEAL" – Includes Headphones, Wireless Charger, Water Bottle and More! 

AfterShokz Trekz Titanium Promo Code
Save $55 On The NEW Trekz Titanium Bundle at AfterShokz Using Code "DEAL" – Includes Water Bottle, Headphones, and More!