Not being a regular swimmer but being a regular bone conduction device reviewer… I appealed to one of my water loving friends to take the Beker, a waterproof bone conduction device, to the test. Indeed, the main objective of the Beker is to make those boring swim laps a lot more fun! And who doesn't like some beats added to the routine to make sporty spice life more attractive and enjoyable. Talking out of experience, by testing various waterproof headphones, it's hard to find a waterproof device that does what it supposes to do. Will the Beker keep its promises? We did a test both in a public swimming pool and in the sea (salt water). Our one and only honest Beker review.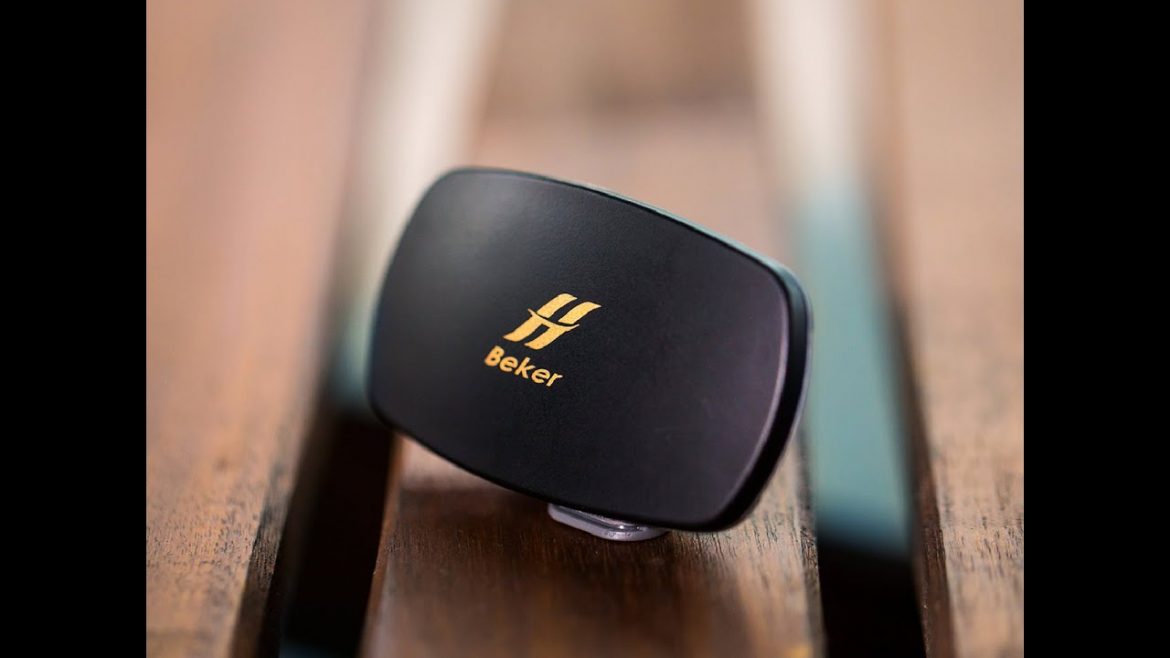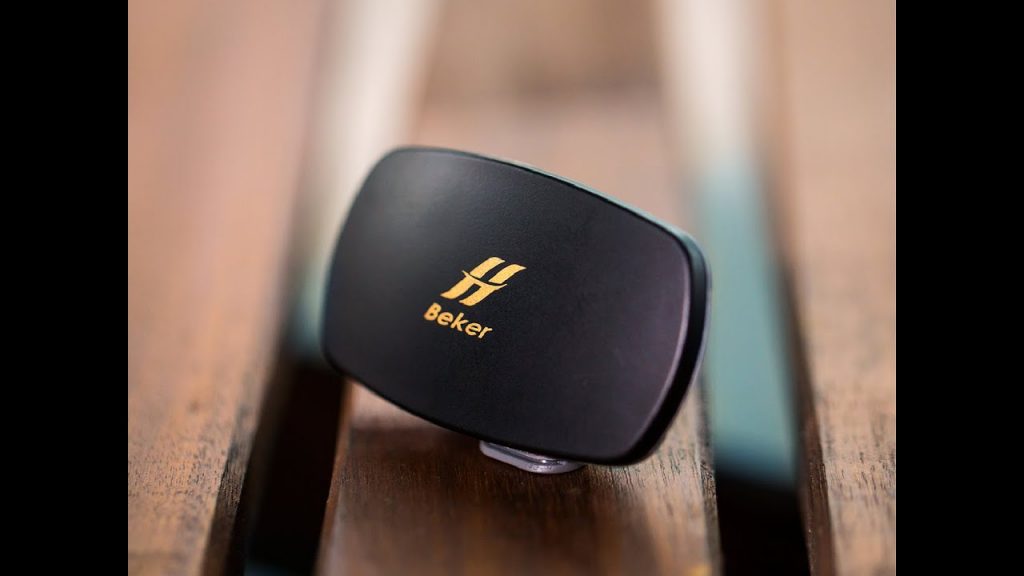 What is bone conduction?
As with each of our review articles we are keen to first explain you what bone conduction is all about. For me it has become part of daily life; testing bone conduction devices day after day and week after week, but I can imagine it might be a new technology for you. So, let's dive into this exciting gamechanger or better… soundchanger.
What's in a name… bone conduction is a technology in which the bones in your body play a crucial part. Instead of transmitting sound by air, bone conduction uses the vibration of sound to transmit it to your brains via your bones. In many cases, the jaw bones are the conductors but in the Beker's case it's the back of your skull. The sound vibrations are pushed through your bones to the inner ear and are then directed to your brain where they are recognized as sound. So, that's why it's also called an open-ear technology. And open ears mean added safety and no annoying ear buds!
The Beker sound
Turning on the Beker and playing the first song, the audio was clearly audible… not only when placing the Beker on the back of the head but also when not touching the skull. This was a bit strange because it felt like putting a small speaker on the back of the head. Luckily enough, no one of the other swimmers looked up from the waves like an ostrich would do, when the beats of Tomorrowland blared through the swimming pool from the Beker. When putting the device underwater the sound disappeared though. Since during swimming sessions your head is most of the time underwater or in the heat of the moment fighting the waves, this will barely be noticeable when swimming. This is the only downside sound-wise though because the Beker produces a nice sound overall.
One tip: Try to use the earplugs which are added to the box. Some people prefer adding them to take away the splashing sound and fully experience the bone conduction sound. Personal preference though.
Big pro: We have also used the Beker during swimming in the sea. Two weeks later we didn't see corrosion or similar… something we did see with other waterproof devices. Do rinse your Beker device with clean water after each salt water dive though.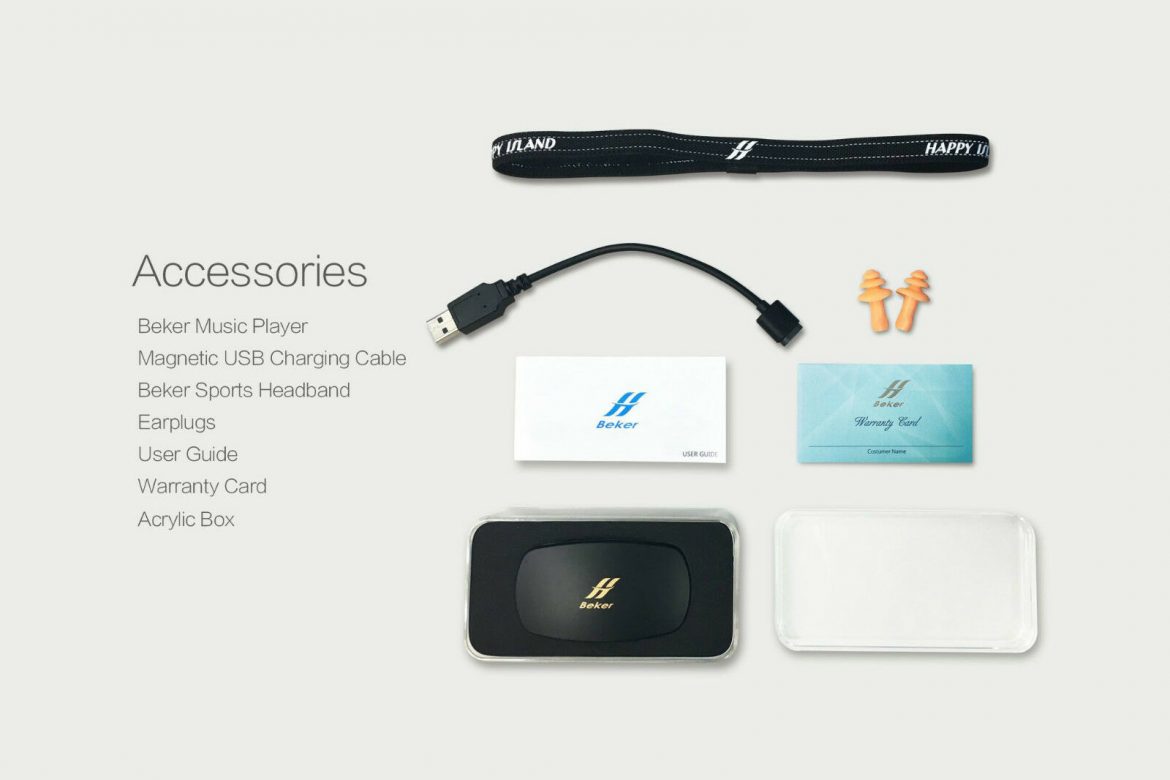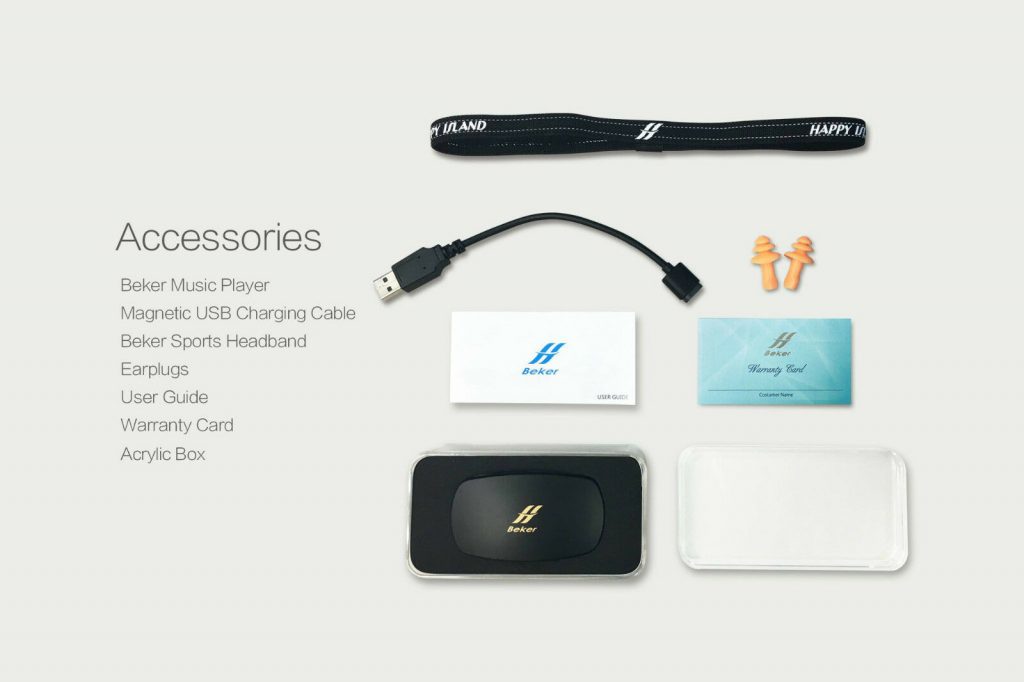 Waterproof bone conduction competitors
AfterShokz Xtrainerz
Time to take a quick look at the Beker competitors as part of this Beker review. The most important competitor is a recently new one but an undeniably strong one; the AfterShokz Xtrainerz waterproof bone conduction headphones. Xrainerz were built based on the experience and knowledge AfterShokz developed the past years within the bone conduction world. AfterShokz is the strongest name within this market and the AfterShokz is a perfect example of how waterproof bone conduction headphones should look, feel and work like. They are quite expensive but you get a high-quality device in return. Knowing your headphones will take a dive once in a while we would be happy to pay a few euros or Dollars more for a high-quality device which will last for years.
Finis Duo One Size
A second competitor worth referring to is the Finis Duo One Size. Finis was the first one combining waterproof and bone conduction in one device…the Finis Duo being the result. It came to the market with a few months' delay but there was cheer excitement around the world. So far, the good news. Finis does what it needs to do for some but for many others the device gave up after a few weeks or months. Reading user reviews and asking people who have used the device, it also seems the device isn't always as waterproof as it should be and especially the charging mechanism is a weak spot. Corrosion and connection issues are therefore a common thing.
Besides, the Finis Duo can only be used underwater not on land. Although some are happy with the Finis, we wouldn't recommend this device with the Xtrainerz and Beker as perfect and better alternatives on the market. The Finis Duo is available for 119 euros or $132,99 .  
Other waterproof bone conduction headphones
Besides the two above waterproof bone conduction competitors there is also a wide range of waterproof headphones like Sony NWWS413, Beats by Dr. Dre – PowerBeats 3 wireless, Platronics Backbeat Fit Wireless and Swimbuds. The big downside of all these headphones is the use of classic earbuds. You wouldn't be the first one being confronted with a so-called swimmer's ear when using headphones with earbuds. A swimmer's ear is an inflammation or infection of the outer ear caused by bacteria. There is an increased chance on a swimmer's ear when using earbuds while swimming.
Besides some of these waterproof headphones are also using Bluetooth. A choice we don't understand. In perfect conditions, Bluetooth has a maximum range of about 10 meters or 33ft. Swimming underwater isn't what we would call a perfect condition, so you need to make sure your Bluetooth broadcasting device is always within distance. Therefore, we clearly prefer bone conduction waterproof devices with an internal storage like the Beker.
Beker Review: pros and cons
Cons
When not being underwater, they sound more like a speaker than like headphones. It may turn some heads…
A pity they can only be used for swimming and not for other activities like cycling, running,…
Pros
Compatible with Windows and Apple devices
Clear sound underwater
8 hours of battery life
Up to 1000 songs can be uploaded
No earbuds required
Fully waterproof IPX8
Looks great (white and black version)
Very light (only 34g or 1.2 oz)
Can be used in salt water and/or hot spring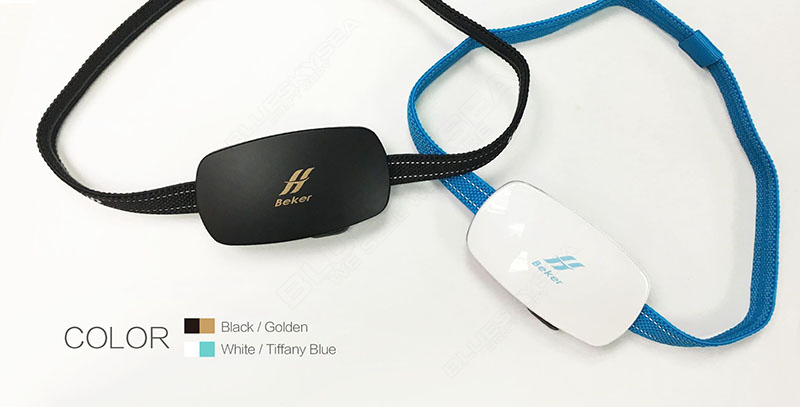 Beker specifications
Weight: 34 g (1.2 oz)
8 Gb storage (+/- 1000 sounds)
IPX8 waterproof bone conduction device
Two colors: white and black
Battery life: 8 hours
Waterproof up to 3 meters (10 feet) underwater
Warranty: 12 months
Supported files: MP3, WMA, WAV
Beker Review Conclusion:
The Beker is a lightweight device which is easy to use and there are no cables or cords involved so that's a big pro! The other pro is the fact you don't have to use earplugs so there is no risk on infections like a swimmer's ear. Versatile athletes combining swimming with other sports might prefer other devices over the Beker since it can only be used for swimming. For lap swimmers whose main focus is swimming this device looks and sounds perfect though. It might sound a bit loud like a speaker when not swimming but as soon as you dive underwater the sound is yours. I hope you liked our Beker review and sharing is caring!
Beker video
Frequently Asked Questions?
Can the Beker also be used for running and cycling?
No, the Beker is a waterproof bone conduction device which is made for swimming. It does what is promised in this domain though.
Yes, the Beker is a waterproof device which is labelled IPX8 waterproof.
How long does the battery of the Beker last?
The Beker has a battery life of 8 hours.
Is the Beker a Bluetooth device?
No, the Beker is a device with an internal storage of 8GB working like a traditional MP3-player. Not using Bluetooth is a deliberate choice of the team behind the Beker. Bluetooth is obstructed by the waves of water and has a limited range. Internal storage is therefore the best option!
Can the Beker be used in salt water?
Yes, it can. To be 100% sure we did the test by swimming in the sea. Some weeks later the Beker still worked as it should work and no corrosion was detected. Do rinse your Beker with clean water after each salt water session.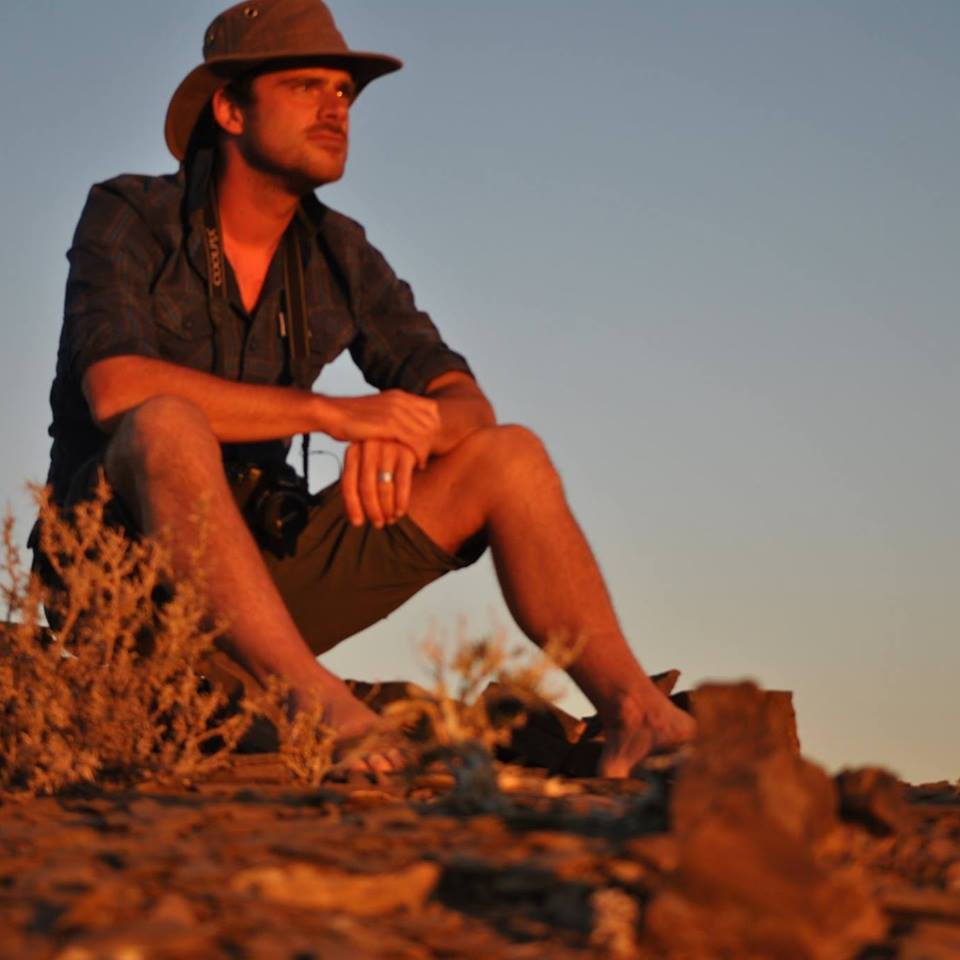 Wim Styleman is a content writer, translator, reviewer and bone conduction fanatic. Interested in the wonderful world of bone conduction since 2016. Driven by a desire to get everyone submerged into this wonderful technology, but critical and honest when he has to be as a reviewer. Only the best is good enough. He has traveled around the globe and visited various CES events. When he isn't busy testing bone conduction devices or writing freelance translations, he is at his bike somewhere on the Belgian roads or on his touring skis somewhere in the Austrian or French Alps.