The BoneTalker Adder is the (only) flagship of the headphone manufacturer BoneTalker. The intent of the team behind this brand is to create and develop headphones which make a clear difference for its users. Headphones which can also compete with AfterShokz. But can the BoneTalker compete with the AfterShokz Trekz Air which has clearly led the charge on the bone conduction headphones market? Or is this an uninspiring headset which is just another one in the bone conduction row? We present you our BoneTalker Adder review. A full and honest review based on our personal experiences! From the benefits over the look & feel and the accessories to the sound quality and the downsides.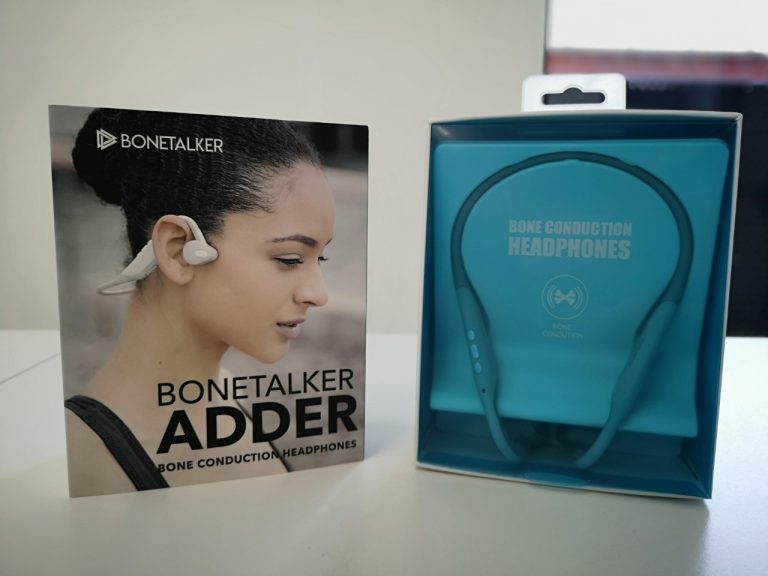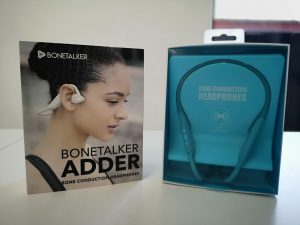 What is bone conduction?
What do I love music and podcasts when doing my workout or when cycling. But what do I hate these annoying in-ear buds and the fact I can't hear my surroundings. 'What is the solution?' is the question, 'bone conduction' is the answer. Bone conduction is an open-ear technology whereby sound is transmitted through vibrations via your skull instead going directly via your outer ear and the cochlea. The BoneTalker Adder makes use of bone conduction, allowing the user to listen to music without blocking ambient sounds. The bone conduction transmitters transmit sound via the cheekbones. They are placed right at the base of your ear, keeping your outer ear open.
What you get?
The BoneTalker is delivered in a simple box, nothing too fancy. But do you need a fancy box? Accessory-wise these headphones are delivered with a micro-USB charging cable, a manual and a pair of earplugs. Earplugs? Yes indeed, earplugs. Bone conduction means open ears and open ears means also being able to hear ambient sounds. In very noisy environments, like construction sites, earplugs might be required to clearly hear the bone conduction sound. They take away the bone conduction benefits and therefore they should only be used in exceptional (read very noisy) circumstances. But better safe than sound!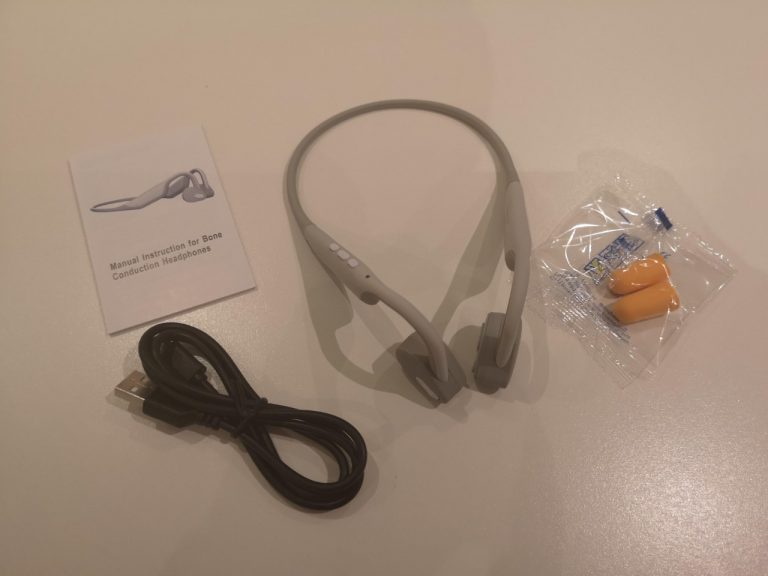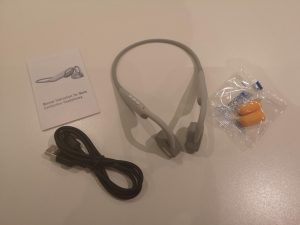 The look & feel of the BoneTalker Adder headphone
BoneTalker offers its visitors two choices: the dark grey or the white headset. I chose to test the white version during his BoneTalker Adder review. Opening the box, I saw a good-looking sporty headset which put a smile on my face. With regard to the looks, the white version matches a wide variety of outfits (and the dark grey one even more). Important aspect for my wife ?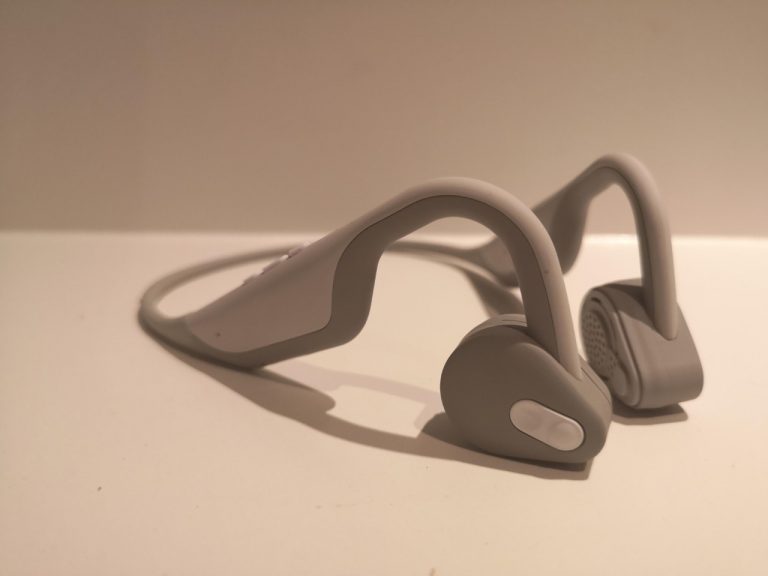 User experience
Before writing this review, we ensured a proper testing phase. My wife used it during 4 of her running sessions while I used it during 3 cycle trainings. Both of us experienced a perfect stability and 'speaker' placement on our cheekbones. At all times, the bone conduction headphones remained stable on our 'sweet spot'. This is what we really love about this type of headphones compared to classic over-ear or in-ear headphones; the feeling you are even not wearing a headset.
The behind-the-neck frame isn't only flexible but also feels very durable (difficult to properly tell of course after only a few weeks of usage). We have used it twice in bad weather conditions (read rain) but that didn't affect the quality or functionality.
Although we have always been using classic non-collar sport T-shirts, we can imagine the frame to bump into shirt or jacket collars. We will give it a try later and will let you know our findings on this one. When wearing a normal T-shirt, the neck band is floating in open air. This was at no moment annoying or never felt irritating.
One big pro compared to all other bone conduction headphones we have tested so far, are the controls. The placement of these buttons and also their size are just fantastic. One control button is located on one of the transmitters. This button can be used to control the call functionality. Picking up calls goes in the blink of an eye and the call quality is superb. When picking up a call, the music stops playing and when aborting the call, the music continues.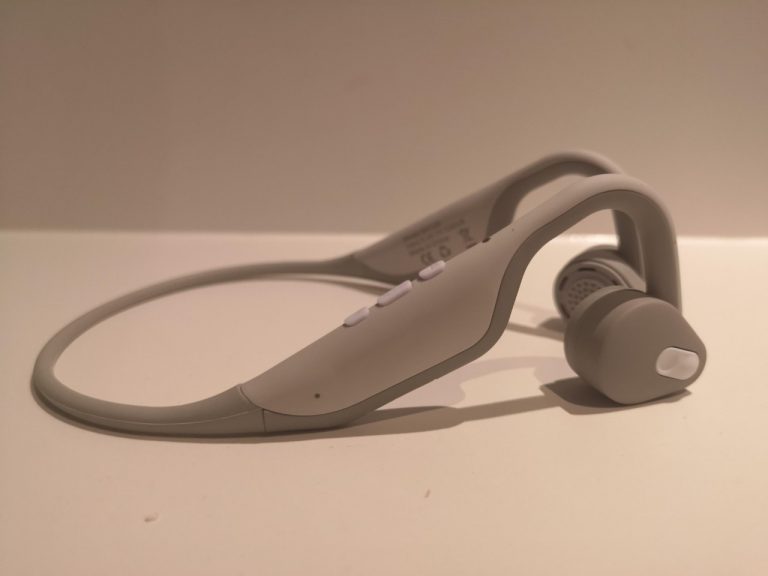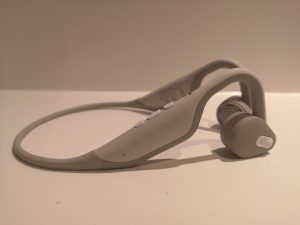 To end our user experience as part of this BoneTalker Adder review, we have also tested the battery capacity. BoneTalker talks about a 4-hour functionality after a single charge and we can confirm the battery capacity. I have been able to use it for +4 hours (4 hours and 10 minutes & 4 hours and 12 minutes) twice. Charging is a piece of cake via the micro-usb charging port which is covered by a small cap to ensure it remains water resistant.
Oh yeah, I have also used my BoneTalker Adder when ski touring. Besides fitting perfectly under my bike helmet, it also fits like a glove under my ski helmet! So 100% helmet proof.
Sound Quality of the BoneTalker Adder
When talking about the sound quality of bone conduction headphones so far there has only been one brand which could fully satisfy us… AfterShokz. I have mentioned this brand quality in almost every bone conduction headset review, I know, but the truth should be told. The BoneTalker Adder nevertheless is the first open-ear headphones which comes close to the AfterShokz quality. I am still lacking the bass and some more dynamic sound but the sound is overall ok. I believe a decent bass will always be a downside when considering bone conduction headphones. Over-ear or in-ear headphones do have this advantage, but they lack various other bone conduction advantages. It's just a matter of whatever floats your boat.
BoneTalker Adder Specifications
Single charge (1.5 hours) for 4 hours continuous use and 15 days standby
IP56 certified
Bluetooth 5.0: 49 feet range (15 meters)
Microphone: -36dB +/- 3dB
Speaker type: bone conduction transducers
Weight: 35.5 g (1.24 oz)
Rechargeable lithium ion battery
The benefits of the BoneTalker Adder
A good price for a decent product compared to other prices and the quality of other bone conduction headphones on the market.
The best controls on the bone conduction market
IP56 certified: rain water, sweat and dustproof
Bone conduction technology: open ears for added comfort and increased safety
Perfect fit with a bike or ski helmet
Flexible and lightweight frame. You barely feel like wearing a headset.
Single charge (1.5 hours) for 4 hours of playback time and 15 days standby time
Ergonomic design makes it ideal for long time use
Perfect call functionality
Downsides BoneTalker Adder
Some more bass and dynamic sound would be a true value add
A storage bag would be handy
Only 1-year warranty (which is common in this market though)
Where to buy the BoneTalker Adder
The BoneTalker Adder can be bought on the official BoneTalker website.
The website can be found here.
Use BoneTalker coupon code boneconduction2019 and get $20 off.
We hope you have enjoyed this BoneTalker Adder Review. Feel free to leave your comments and questions and we will try to answer them as soon as possible.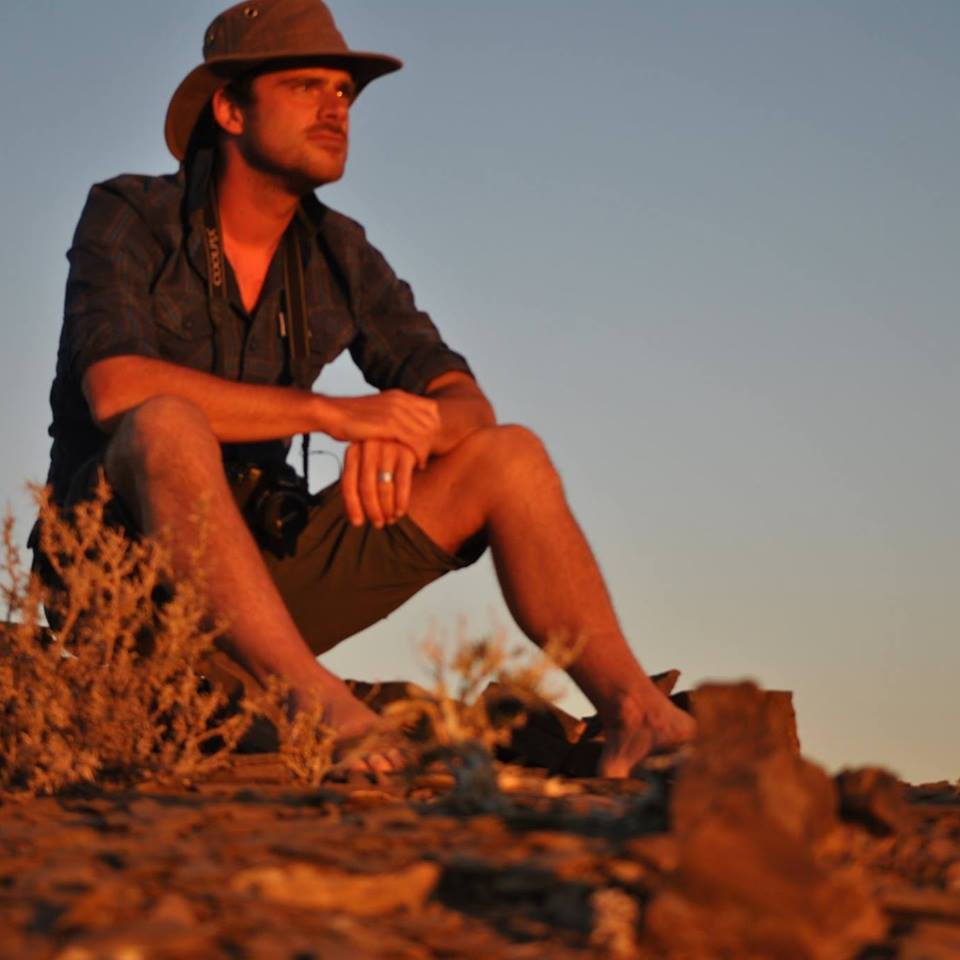 Wim Styleman is a content writer, translator, reviewer and bone conduction fanatic. Interested in the wonderful world of bone conduction since 2016. Driven by a desire to get everyone submerged into this wonderful technology, but critical and honest when he has to be as a reviewer. Only the best is good enough. He has traveled around the globe and visited various CES events. When he isn't busy testing bone conduction devices or writing freelance translations, he is at his bike somewhere on the Belgian roads or on his touring skis somewhere in the Austrian or French Alps.