Water sport fanatics all over the world listen carefully…. music is in the air or better in the water. Your bone conduction team has bumped into a very promising project which will sound like music to your ears. The project we want to talk about is Zygo. Zygo launched a crowdfunding Indiegogo campaign a few months ago (find the Indiegogo website here) and managed to exceed its set target with an incredible 705% raising $141.146. Such incredible performance deserves an incredible article. In the meantime, we have also talked to the enthusiastic team behind the project and they were able to convince us verbally… Wait and see if the brand can also convince us in practice.
But what's this all about? Well, Zygo is currently turning its prototype into a waterproof headset. And to be more precise waterproof bone conduction headphones. Say bye bye to outdated and low-quality waterproof MP3-players. That's at least their intent. In a few months' time we will receive a sample and provide you an extended review. Until then, we are happy to share some more details about this very promising product.
Some history and background info
The team behind Zygo discovered a clear gap in the water sports domain and united all their forces and ideas to fill this gap. After two years of investigation, user input and testing, analysis and development the team came up with an IP68 waterproof headset using bone conduction technology. It took them two years because they wanted to deliver a high-quality product which would change the way you water sport. Considering different aspects. All to deliver the best product on the market which meets all standards and requirement of its user.  The patented bone conduction solution is now ready to conquer the water sports market and to end the frustrations with existing waterproof headphones.
The benefits of the Zygo waterproof bone conduction headset
Possibility to stream music, podcasts and coaching info to a wireless, waterproof headphone
IP68 Waterproof
Real-time one-way communication (one-way walkie-talkie functionality)
2 feet (60 cm) below swimming pool water à 164 feet (50 meter) range. Above water: + half a mile (+ 800 meter)
Charging from transmitter & headphones via water-resistant case
A big pro because until now the only headphones we could hear and not feel were the AfterShokz ones.
Bone conduction. No annoying earplugs or earbuds in your ear and no cable struggling. The sound is transmitted through your skull directly to your inner ear.
One single charge guarantees 4 hours of headphone use and 8 hours of transmitter use.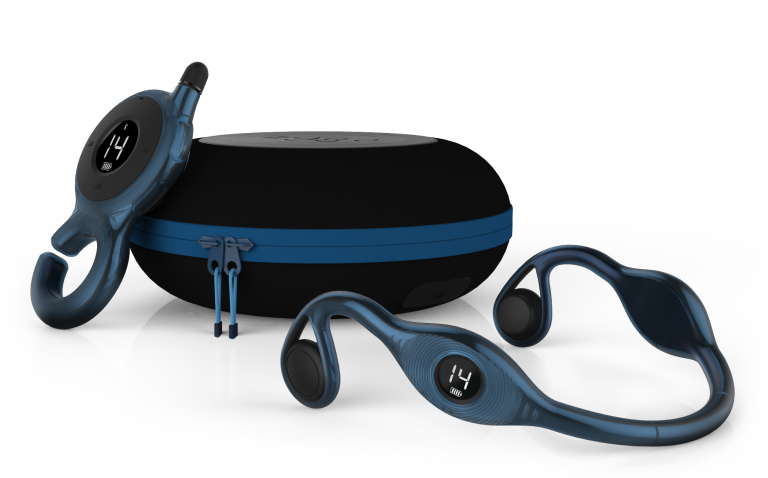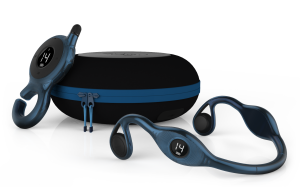 Unique way of transmitting sound
One of the major issues other manufacturers were confronted with was and is the inability for Bluetooth to transmit and transfer sound on a longer distance and through water. The way the Zygo team tackled this issue is both clever and innovative by using a transmitter. This transmitter uses radio frequency to transmit whatever you want from your source device to your Zygo headset. Podcasts, Spotify songs, swimming instructions or even the voice from your mother-in-law (oh yeah, she makes you swim faster…) there are no limitations. While the transmitter stays on land the headphones take a dive in the deep producing a clear sound by means of bone conduction.
Perfect for competitive swimmers, kite surfers, wakeboarders, surfers,…
Another clear value add is the single way walkie-talkie functionality. Up until now competitive swimmers and other water sporters had to stop their activity to get instructions or carefully listen to the whistles of their coach. Annoying, stressful, time-consuming,… Zygo has therefore turned their transmitter into a walkie-talkie device. By adding this extra functionality whomever stays at land can communicate via the transmitter with the athlete. A true value add for all you swimmers, kite surfers, wind surfers, paddleboarders, wakeboarders,…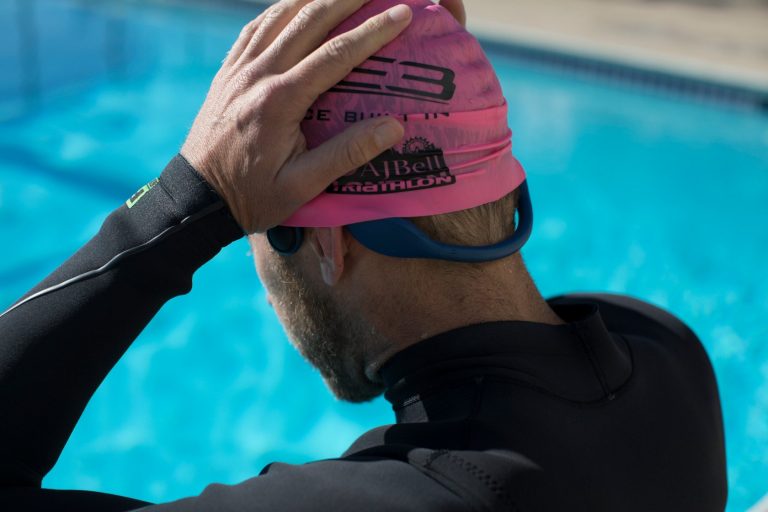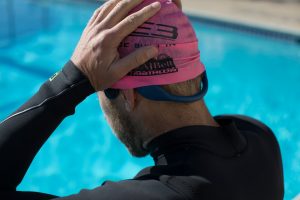 Zygo vs AfterShokz Xtrainerz vs Finis
Zygo does have a few competitors on the market. The main ones being the to be launched AfterShokz Xtrainerz and the Finis. Nevertheless, the Zygo bone conduction headphones do have a few benefits which should be capable of pushing these competitors to the background. First of all, the Zygo team strongly believes MP3 players are an end of life product. Streaming is the future. We fully support this approach, so we are really looking forward to get a look and feel of these new bone conduction headphones. The transmitter totally tackles the MP3 limitations and even adds some extra useful functionalities like the walkie-talkie feature. Neither the AfterShokz Xtrainerz or the Finis have implemented these fantastic features.
With regard to the Finis, there was another major downside… the overall quality. Finis has to cope with water damage and erosion issues on its so-called waterproof headphones. I believe this will be the major challenge for both AfterShokz and Zygo. AfterShokz has always produced high-quality products so we do expect a similar standard for their Xtrainerz. Zygo is still an unknown brand to us. We have nevertheless talked to the development team and we have some high expectations. If Zygo can meet the promises they have made, we strongly believe they have all it takes to not only conquer the waterproof bone conduction headphones market but also the waterproof headphones market as a whole.
Zygo Waterproof Headset Video
Zygo review
As soon as distribution of the Zygo headset has started, we will also receive a model to test and review. We will perform an extensive review and share all details with our visitors. Keep a close eye on our website.
Where to buy?
The Zygo can be bought on the official Zygo webshop & site: https://shopzygo.com . The headphones are currently in production phase and shipping will take place in August.
Zygo currently offers a 10% reduction and the team provided us an exclusive additional 10% off for all our bone-conduction blog visitors. Use the promo code 'ZYGOLICIOUS' and get 10% extra reduction!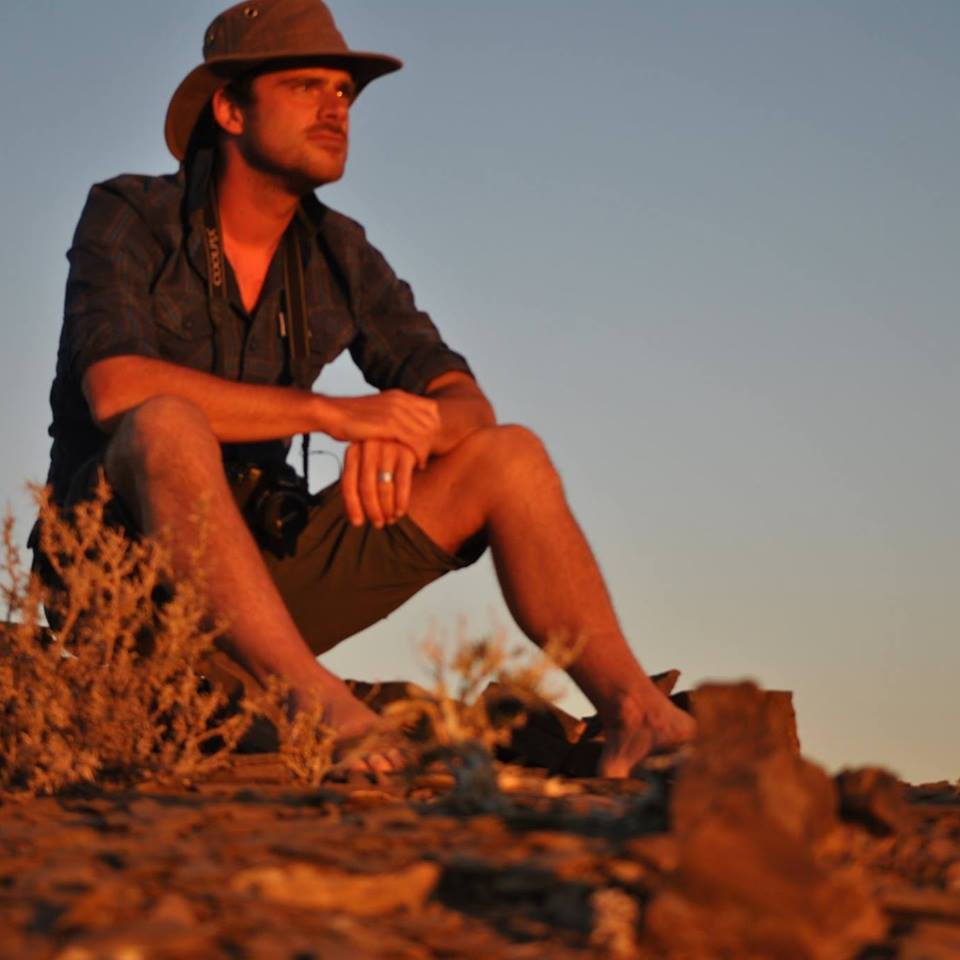 Wim Styleman is a content writer, translator, reviewer and bone conduction fanatic. Interested in the wonderful world of bone conduction since 2016. Driven by a desire to get everyone submerged into this wonderful technology, but critical and honest when he has to be as a reviewer. Only the best is good enough. He has traveled around the globe and visited various CES events. When he isn't busy testing bone conduction devices or writing freelance translations, he is at his bike somewhere on the Belgian roads or on his touring skis somewhere in the Austrian or French Alps.