Being a fanatic skier, I have been waiting for years for the first high-quality bone conduction ski gadgets to appear on the market. I have always believed bone conduction would and could be the ideal technology to safely hit the slopes while at the same time enjoying some innovative features like listening to music and making calls. So it was just a matter of time until the first other believer would turn his or her beliefs into a high quality product. bONE Technology srl could be the first one sharing my thoughts and hopes with the exciting IceBRKR ski goggles ; called "the world's first ski goggles to integrate bone conduction audio and Bluetooth 5.0 MESH Intercom technology!"
Past bone conduction ski gadget experiences
Buhel Smart Ski Goggles
So far, I have tested two other bone conduction products which were specifically designed for ski or snowboard purposes. The first one was the Buhel smart ski goggles. These glasses used a system whereby you had to connect your phone via Bluetooth and you had to plug in your earphones into the frame itself. This way you were able to listen to music, to pick up calls and to talk to your friends on the slope via a kind of intercom system. Bone conduction was used to enhance the speech part. The vibration of your voice was picked up by the Buhel via a nasal transducer and transformed into sound.
Big disadvantage was the fact you were still using wires from the goggles to your ears. Besides, the big safety benefit of bone conduction was ignored since you were covering your ears by using earphones to listen to the incoming sound. Moreover, the connection between different people wasn't always as fluent as hoped.
Babaali Smart Ski Helmet
The second one I have tested and which is still available for sale is the Babaali smart ski helmet. I don't want to spend too much words on this helmet though. The best place to put this bone conduction ski helmet is… the dustbin. Sound quality wise it sucks and the battery gave up after exactly 36 minutes. Crap, crap and… crap.
Skiing on the waves of bone conduction sound
On the IceBRKR ski goggles the bone conduction part is all about the innovative and patented bendable arms. These extremely flexible and bendable arms are attached to the frame. They can be placed right against your temples' cartilage to transmit sound via bone conduction to your inner ear or they can be placed directly over your helmet to create a, what bONE Tech calls, incredible 360-degree sound experience. The helmet shell acts at this point as a kind of sound booster and creates a stereo audio perception.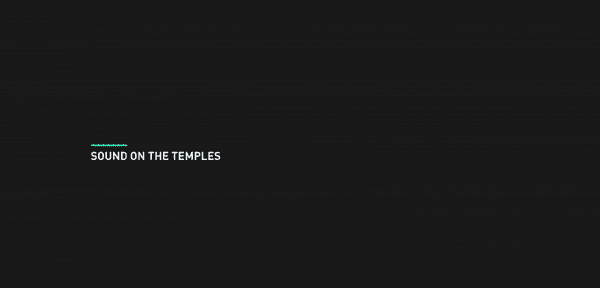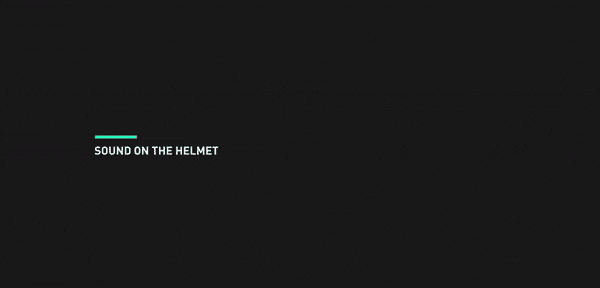 To transmit sound the designers opted for bone conduction technology. No wires, no annoying earplugs or no ear covering headphones… this is all about keeping your ears free while still being able to enjoy your favorite music, picking up calls and talking to your friends!
Wanna know more about bone conduction? Feel free to read one of our articles:
The IceBRKR ski goggles
Besides having some fun and innovative features you won't find on other ski goggles, the designers did pay attention to the ski goggles aspect as well. After all, it remains a crucial ski or snowboard part when hitting the slopes.
The IceBRKR is therefore equipped with a magnetic interchangeable lens feature and some revo polarized lenses with iridium coating to provide the best contrast possible. The dual layer lenses have been designed taking into account your eyes' geometry and anatomical curvature to maximize the peripheral vision. An anti-fog aeration system and three layers of foam combined with a triple layer polar fleece make these ski googles extremely comfortable and water, snow and cold resistant. Sounds good… let's see in a few months' time if those sounds transforms into reality!
IceBRKR Features and Functionalities
Mesh Intercom system allowing up to 18 people to pair and talk to each other
High-quality lenses: magnetic interchangeable lenses + revo polarized
Bluetooth 5.1 to connect the ski goggles to your smartphone
Bone conduction audio transmitted via the bendable arms through your cartilage or your ski helmet
Listen to music, podcasts…
Use voice activated apps and technologies like Siri and Google Assistant
Answer calls
Water resistant IP56 ski goggles
Anti-Fog Aeration System
Intercom radius: up to 1 mile
72 hours standby mode
24 hours continuous use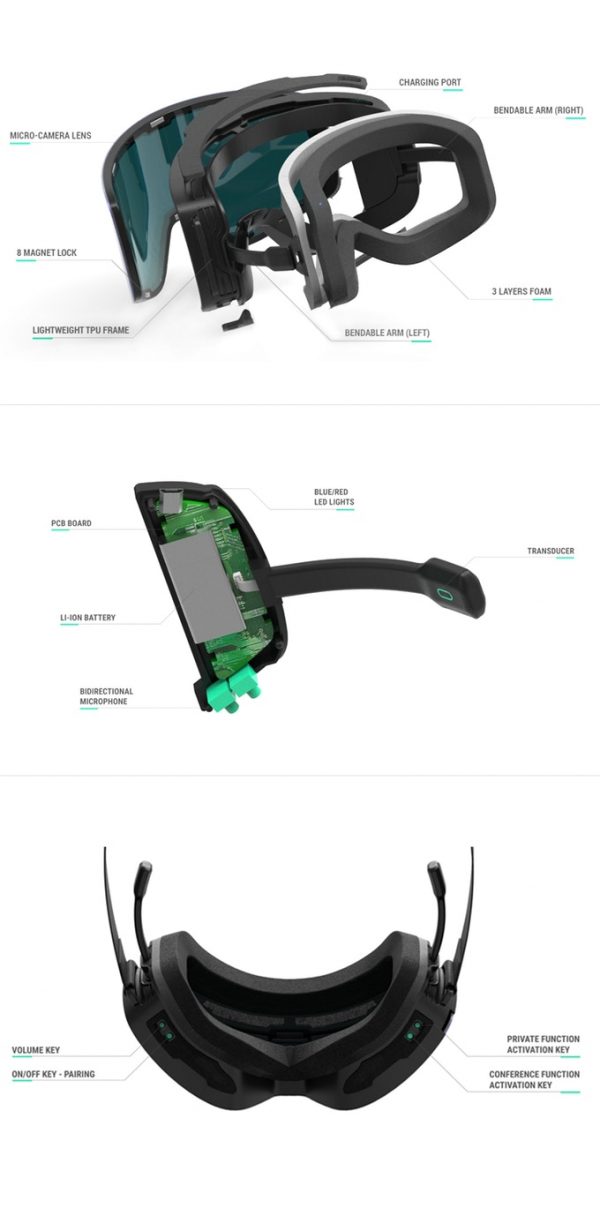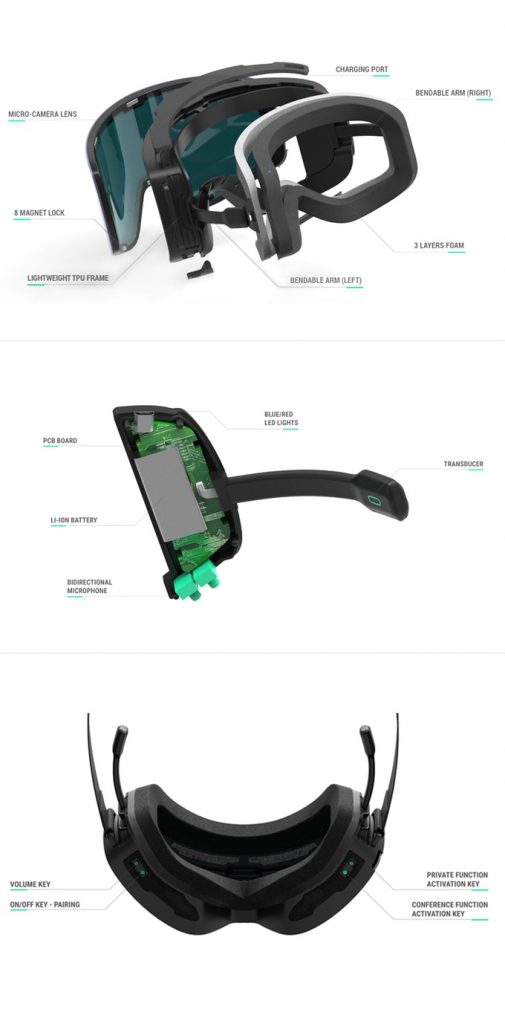 IceBRKR Review
To serve what you deserve… the most complete IceBRKR review possible, we have ordered two IceBRKR ski goggles which will be delivered end of November – beginning of December. Just in time to be tested on the slopes. A full IceBRKR review can therefore be expected somewhere in December when we hit the slopes of French La Plagne. The ski holiday is already booked so now it's just a matter of receiving those ski goggles to put them to the test! Are you as excited as I am? Keep an eye on our website and check if the IceBRKR is able to stick to its promises!
IceBRKR Promo Video
Where to buy IceBRKR ski goggles
Interested to buy these smart glasses for skiing and snowboarding? Take a look here at their kickstarter campaign and benefit from some early bird specials until the 21st of September.
Frequently Asked Questions
Does the IceBRK come with a warranty?
Yes, it does. Bone Tech offers a 2-year warranty on the electronic parts. The only requirement is online registration to claim your warranty.
Is the IceBRKR waterproof?
The IceBRKR ski goggles are what we call splash water resistant. If we follow the official intrusion and moisture protection definition the ski goggles are protected from limited dust ingress and from high pressure water jets from any direction. In practice, this means your ski goggles are protected from all weather conditions.
What is bone conduction?
Since, we have already written various articles on this subject. We would like to refer you to our article: What is bone conduction?
What is the MESH intercom technology?
MESH allows you to click a single button to activate so-called public mode. Upon activation, the technology will look for other IceBRKR users within a range of one mile and automatically connect to them. The technology allows up to 18 people to be connected to the same intercom system at the same time. 6 person can talk at the same time using the MESH intercom technology. Public mode offers the best audio quality. When required, the user can also activate private mode whereby one of the users needs to create a so-called MESH to which others can join.
Are the IceBRKR ski goggles compatible with glasses?
The IceBRKR is compatible with all small to medium size glasses.
Will the IceBRKR be delivered worldwide?
Yes, it will. Different shipping costs will apply though depending on where it needs to be delivered. The early birds ski goggles will be shipped end of November 2019.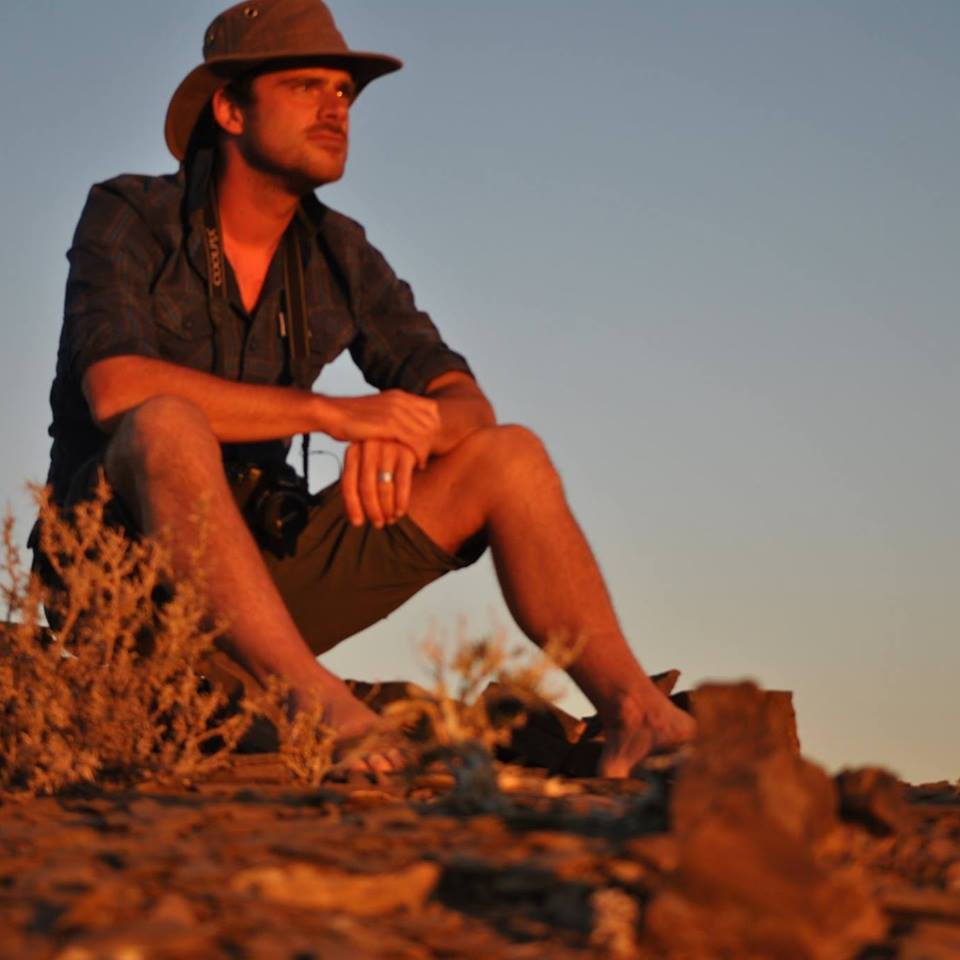 Wim Styleman is a content writer, translator, reviewer and bone conduction fanatic. Interested in the wonderful world of bone conduction since 2016. Driven by a desire to get everyone submerged into this wonderful technology, but critical and honest when he has to be as a reviewer. Only the best is good enough. He has traveled around the globe and visited various CES events. When he isn't busy testing bone conduction devices or writing freelance translations, he is at his bike somewhere on the Belgian roads or on his touring skis somewhere in the Austrian or French Alps.