Today was the day… I finally received my new bone conduction sunglasses Zungle Viper for testing and review purposes. Man, I have been looking forward to that one! Being a writer and reviewer of bone conduction products for a few years now, this product could be the real game changer when talking about bone conduction glasses in general and bone conduction sunglasses in particular! Until now I have never been a big fan of these glasses since the quality has always been low compared to the quality of headphones like the AfterShokz… I am now thinking about some of the first generation Zungle sunglasses, the Vue glasses which have disappeared in oblivion and the Buhel SO05 whose sound leakage was incredible. But the information and updates about these products: the Zungle Viper and the Zungle Lynx were very promising! So time to test this hopefully astonishing piece of technology… behold my Zungle Viper Review.
The Zungle Viper is in fact the improved version and successor of the Zungle Panther bone conduction sunglasses. Zungle took into account the reviews and feedback of its users on the Panther and started working on an enhanced product, which is the Zungle Viper aka Zungle V2. The product still makes use of bone conduction technology but compared to the Zungle Panther it has an enhanced sound transmission using a relocated bone conduction placement moved from the end of the leg to the middle of the leg. Bone conduction technology lets your ears free and creates a unique and safe sound experience allowing you to hear your surroundings. For all differences between the Zungle Panther and the Zungle Viper we would like to refer you to the below article: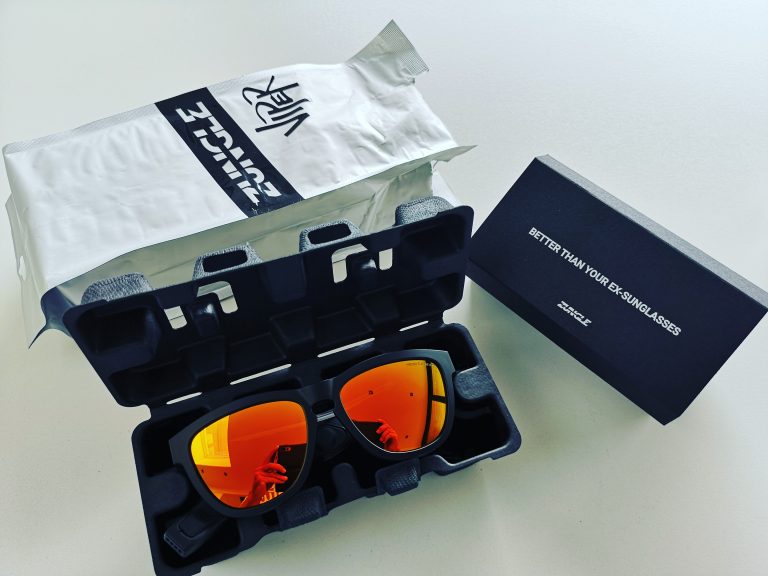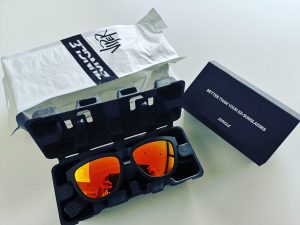 Zungle Viper Look and Feel
When unpacking the box and next the paper wrapped around the sunglasses the trendy and cool looks of the Zungle Viper instantly grabbed my attention. They really look quite fancy. Taking into account you can order different frames and different types of lenses they can match every color and every piece of clothing you wear. Yeah, these are sunglasses I am willing to wear on a sunny day when doing an outdoor activity but also when having a party or even on a more formal event. Looking at the looks they score a 9 out of 10 for me.
The plastic frame of the Zungle feels comfortable and durable. This last aspect is of course difficult to judge right now… so let's Zungle meet again in a few months' time. What I can judge right now is the fit. I have so far worn it during cycling and my wife during running and the Zungle Viper stays in place at all times. The frame was lengthened and that's a big pro compared to the Viper Panther and other bone conduction sunglasses.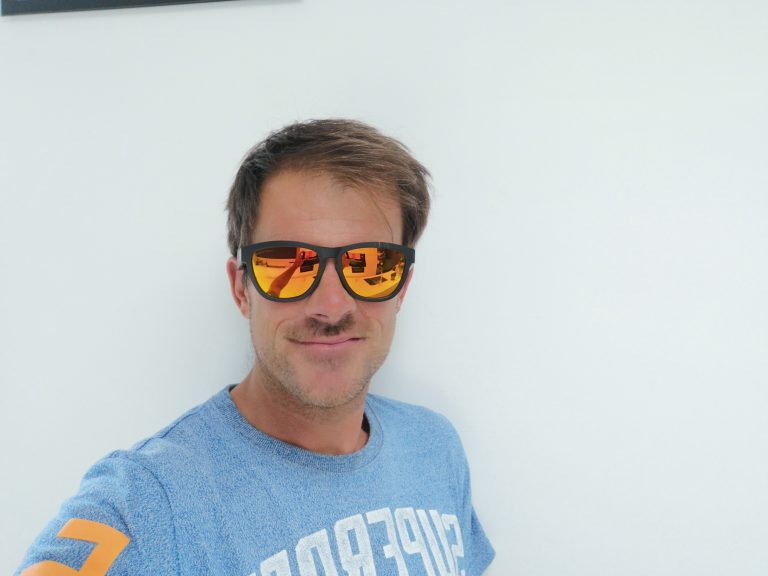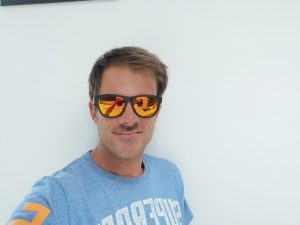 Zungle Viper sound quality
Maybe the most important aspect of sunglasses also referred to as music sunglasses is the quality of the sound. You are going to use it as an audio advice to listen to music or to take phone calls, so it can better be good. Putting it to some decent tests inside and outside the sound quality pleasantly surprised me. I have always been a big fan of the AfterShokz headphones audio and for the first time in bone conduction history there is another brand on the market which comes very close to the sound quality experienced by the AfterShokz headphones. The sound was clear with a nice bass and my partner confirmed to me the sound leakage was minimal at low-medium volume (at higher volum there is still clear sound leakage – sth to still enhance in a next version). So it seems Zungle did a quite good job to enhance this aspect. To create a clear and powerful sound delivery they developed the dual-spring bone conduction speaker system. This system now proves to hit the bull's eye. Even when calling outside with my wife or my daughter the voices where clear and well understandable. When you increase the volume to the max I must admit there is more sound leakage but the same thing applies to other bone conduction devices. The new location of the speaker system close to the ear temple and in front of the ear instead of behind the ear and on the skull like with the Zungle Panther also plays an important role in the enhanced sound quality I believe.
Looking at sound quality only, the Zungle Viper is a must have.
Zungle Viper Functionalities
When buying the Zungle Viper it's not just about the music. The Viper has various other functionalities which makes it multi-functional bone conduction sunglasses. So time to test these other functionalities.
First of all, the Viper allows you to pick up phone calls and answer them, when connected via Bluetooth of course, without having to grab your smartphone. I have tested it with a few persons as well inside as outside and it works quite well, even when your smartphone is in the pocket of your pants or in the back pocket of my cycling jersey. You can answer an incoming call by simply pushing a small button at the right leg of the bone conduction sunglasses. The music stops and when you push the button again the phone call is suspended, and you can listen to your music again. It's as simple as that and it works as it should work. No issues experienced here.
Another feature that caught my eye when reading the manual was the AI Voice Assistance. This was something completely new to me when it comes to bone conduction devices. Although I have never seen it before on these devices, I realized it was just a matter of time before it was added… and there it is… on the Zungle Viper bone conduction sunglasses. My wife has an iPhone and I have a Huawei P20 Pro so I was able to test as well Siri, on iOs, as Google assistant, on Android. I performed a few tests and when the question was formulated in the right way I got the answer I required. A simple button click on the frame activates the AI Voice Assistance of the Zungle Viper. I believe Voice Assistance is going to become the technology of the future. So this is just the tip of the iceberg but a nice tip that works as it should work.
Last but not least, the Zungle Viper or Zungle V2 is sweat and light rain resistant, has Bluetooth 5.0 and UV protection as expected from bone conduction sunglasses.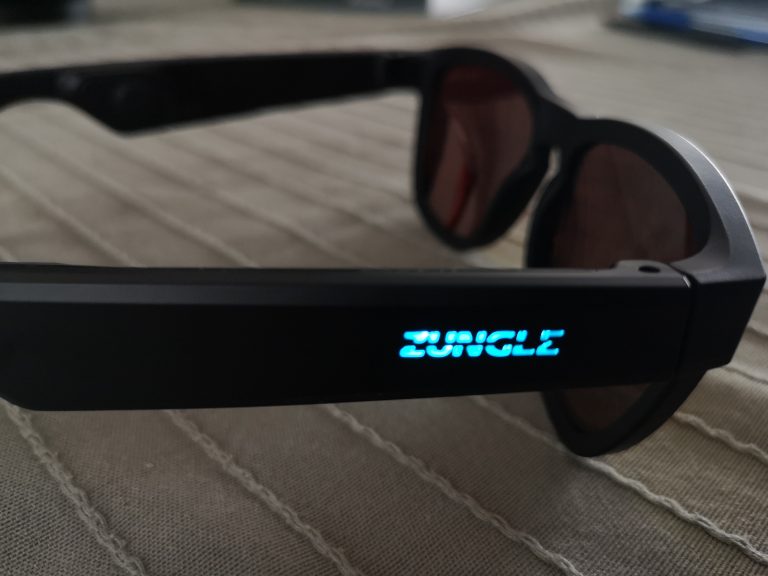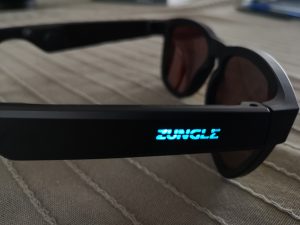 Zungle Viper accessories
The Zungle Viper comes standard with a USB pogo pin charging cable. One hour charging for 4 hour use.
My Zungle Viper was accompanied by a bag of Zungle stickers of $12,99. They do not really add value but my daughter of 6 was more interested in those than in the Zungle.
Possibility to order a wide range of additional lenses: from black to blood ruby… 8 colors in total.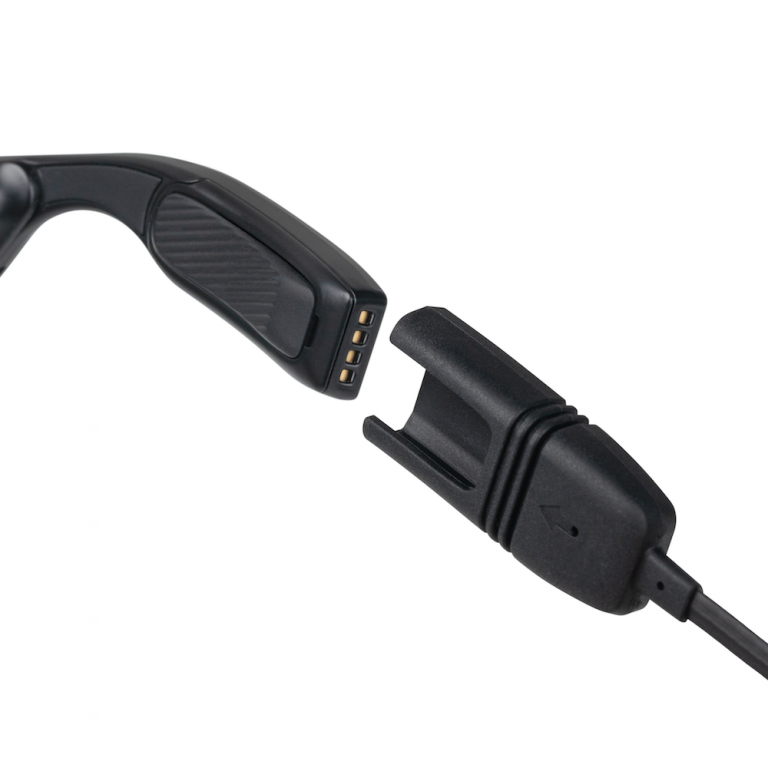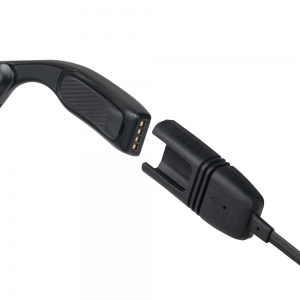 Zungle Viper: General Conclusion
This is a must have device for people who are looking to replace their classic headphones for a fashionable and safe audio device. Atlhough the sound leakage is noticeable at higher volume (sth to still enhance with a next version), the Zungle Viper bone conduction sunglasses or music sunglasses overall meet my desires and up until now I am a satisfied user.
Where to buy the Zungle Viper and Zungle Lynx
Exclusive bone-conduction.com Zungle Deal!
Use the promo code '20off' and get $20 additional off!! Only at www.bone-conduction.com via the below link!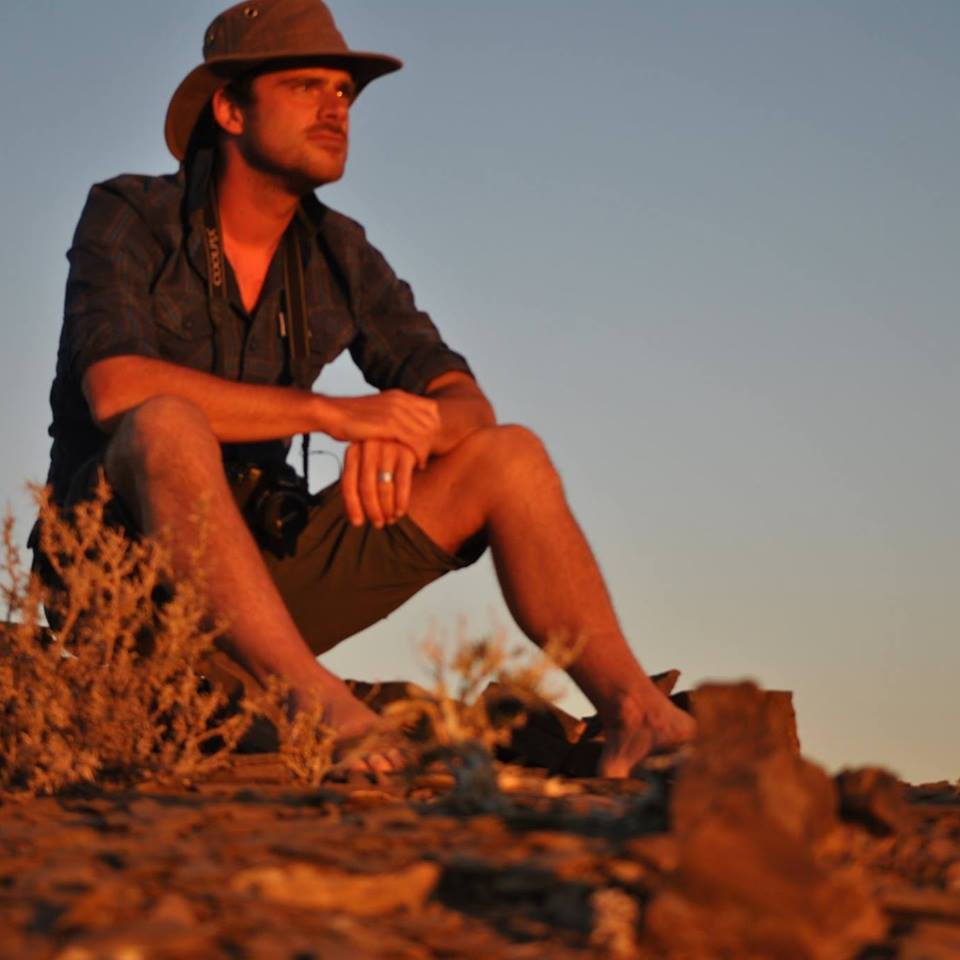 Wim Styleman is a content writer, translator, reviewer and bone conduction fanatic. Interested in the wonderful world of bone conduction since 2016. Driven by a desire to get everyone submerged into this wonderful technology, but critical and honest when he has to be as a reviewer. Only the best is good enough. He has traveled around the globe and visited various CES events. When he isn't busy testing bone conduction devices or writing freelance translations, he is at his bike somewhere on the Belgian roads or on his touring skis somewhere in the Austrian or French Alps.